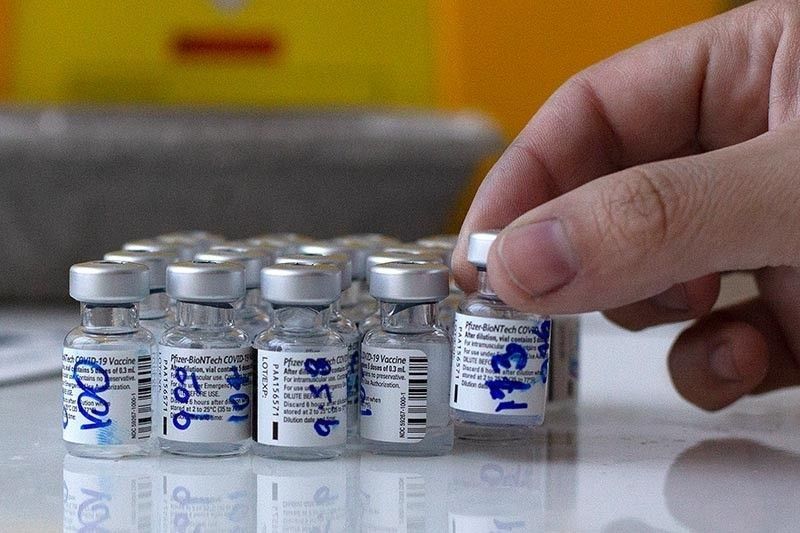 MANILA, Philippines — The head of the vaccine experts panel on Wednesday said they are awaiting request from foreign drugmakers to use their developed COVID-19 jab on those belonging to younger age groups.
Regulators in the United States this week cleared Pfizer's vaccine for 12 to 15-year-olds there, a significant development for protecting children from the virus.
Related Stories
US authorizes Pfizer-BioNTech vaccine for 12-15 year olds
Over a Laging Handa briefing, Dr. Nina Gloriani said Pfizer would only need to have its emergency use approval in the country amended for this.
"We actually look forward to that because this will address vaccination to age groups that other vaccines could not cover at present," she said in Filipino.
The manufacturer secured its EUA from the Food and Drug Administration in January.
An initial 193,050 doses from the COVAX facility also arrived this week, but this jab is only allowed so far for 16 and above.
Gloriani, however, said the first supply of Pfizer is still unlikely to be administered to children. She said the country would still have to follow its priority list for health workers, senior citizens and those with comorbidities.
Apart from the said vaccine, the VEP chief added Moderna and Johnson & Johnson are conducting studies on this too. The former, she said, is holding studies for inoculating children as young as six months to 11-years-old.
"Moderna is coming second to Pfizer and it will soon apply for amendment to their EUA," Gloriani said. "I think they're targeting around September this year."
The FDA has cleared Moderna too for emergency use. Its first doses could arrive in the country by June, according to senior administration officials.
Government had signed a supply deal for 20 million doses, but has yet to finalize the purchase.
As It Happens
LATEST UPDATE: May 7, 2021 – 6:46pm
The national government has so far secured two official deals for COVID-19 vaccine supplies in the Philippines, one with Chinese pharmaceutical company Sinovac and another with the Serum Institute of India.
Watch this space for bite-sized developments on the vaccines in the Philippines. (Main image by Markus Spiske via Unsplash)
May 7, 2021 – 6:46pm
The Department of Health announces the resumption of the use of AstraZeneca jab for all eligible population following the recommendation of the Food and Drug Administration and the DOH All Experts Group on Vaccines.
The health department urges the public to get their second dose of COVID-19 vaccine.
"The benefits of additional protection against COVID-19 could only be achieved by completing both doses of the vaccine," the DOH says in a statement.
May 7, 2021 – 10:53am
The regional health minister of the Bangsamoro Autonomous Region in Muslim Mindanao said there is no basis for insinuations that COVID-19 vaccines are forbidden in Islam.
Medical workers from the Integrated Provincial Health Office-Maguindanao gave Bangsamoro Health Minister Bashary Latiph a Sinovac anti-coronavirus jab Thursday.
Latiph reiterated his appeal to residents in all cities and provinces in BARMM to ignore fallacies and assertions on Facebook by skeptics and pessimists who are not even medical practitioners that vaccines can do more harm than good.
"Listen only to BARMM's Health Ministry, to the Department of Health and to health workers in provinces and in cities in the Bangsamoro region," Latiph told reporters after he got an anti-COVID-19 shot. — The STAR/John Unson
May 5, 2021 – 9:51am
The Philippines approves the application of Moderna's COVID-19 vaccine for emergency use.
Food and Drug Administration Director general Eric Domingo says it only took nine days to review the emergency use authority application.
"The known and potential benefits of Moderna, when used to prevent COVID-19, outweigh the known and potential risks of the said vaccine," Domingo says during the Kapihan sa Manila Bay forum.
May 3, 2021 – 7:14pm
President Rodrigo Duterte has been vaccinated against COVID-19, reportedly with the Sinopharm vaccine.
May 3, 2021 – 10:24am
A total of 1,510 tourism frontline workers have received their first dose of COVID-19 vaccine as of April 30, Tourism Secretary Bernadette Romulo-Puyat says.
Workers from DOT-accredited and LGU-licensed quarantine/isolation facilities and non-quarantine DOT accredited accommodation establishments are included in the A4 Priority Group.
"We have also received word that LGUs who have already covered the majority of those in the A1 to A3 classification will also begin vaccinating those in the A4 group," Romulo-Puyat says in a statement.
***
Credit belongs to : www.philstar.com