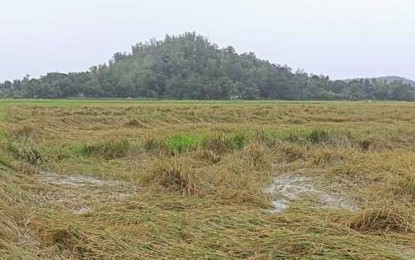 BACOLOD CITY – Crop farmers and animal raisers in Negros Occidental have suffered some PHP8.3 million in production losses following the onslaught of Tropical Storm Dante last week.
As of Tuesday, the Office of the Provincial Agriculturist (OPA) reported almost PHP7.6 million worth of losses among 540 farmers in 51 barangays of nine localities.
Affected were 502.25 hectares of rice and high-value crops farms flooded due to torrential rains brought by "Dante".
In rice production, 60 farmers in Hinoba-an posted the biggest amount of damage and losses at PHP2.32 million while in Moises Padilla, 51 farmers, at PHP1.7 million.
In Bago City, the province's top rice producer, 256 farmers incurred PHP1.16 million worth of damage while in Cadiz City, 28 farmers, at PHP881,491.
Others that reported damage and losses were Binalbagan, 65 farmers, PHP601,640; La Carlota City, 38 farmers, PHP410,800; Isabela, eight farmers, PHP249,025; Pontevedra town, 12 farmers, PHP257,535; and Victorias City, eight farmers, PHP113,775.
Some 14 high-value crop farmers, with 1.35-hectare farms in two barangays of Cadiz City, reported PHP52,775 worth of damage and losses.
Meanwhile, the livestock and poultry sector recorded losses worth PHP583,468, a report of the Provincial Veterinary Office (PVO) showed.
Hinoba-an incurred the biggest losses amounting to PHP352,956, affecting 135 heads of swine, free-range chicken, carabao, goat, cattle, and ducks, as well as PHP8,600 worth of damage to pig pens.
In Binalbagan, animal raisers reported PHP150,750 worth of losses; La Carlota City and San Enrique, the combined amount of PHP63,620; and E.B. Magalona, PHP7,541.92. (PNA)
***
Credit belongs to : www.pna.gov.ph