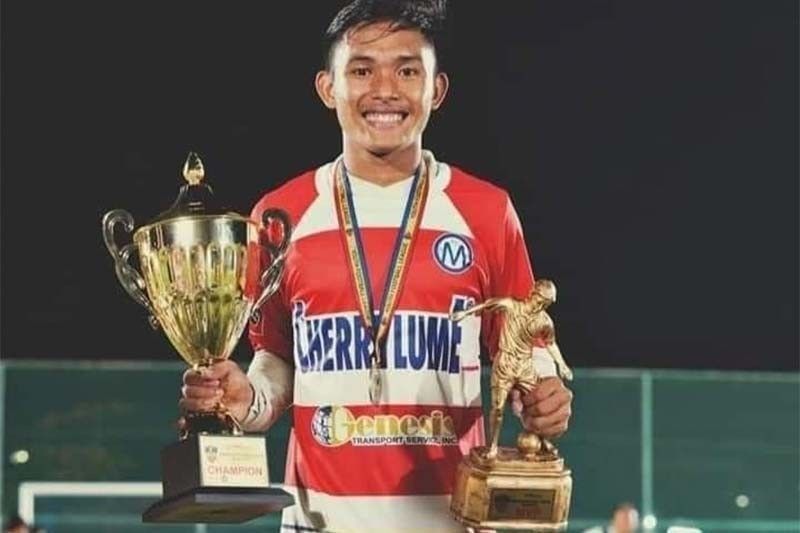 MANILA, Philippines — Communist rebels on Tuesday acknowledged responsibility for the deaths of football athlete Kieth Absalon and his cousin from an IED that exploded in Masbate over the weekend.
The Absalon cousins were on bicycles on the morning of June 6 when the blast took place, resulting in their deaths and injuries for relatives who were with them.
Related Stories
2 slain in Masbate blast
In a statement, the Communist Party of the Philippines said the incident was a result of errors in military action by its armed wing, the New People's Army, in Barangay Anas in Masbate City.
"The entire CPP and NPA take full responsibility for the tragedy," it said. "There is no justification for the aggravation this has caused the Absalon family."
Absalon, 21, was part of Far Eastern University's men's football team. He was named Most Valuable Player in the juniors division of the UAAP in Season 78.
His cousin Nolven was 40. The latter's son, 16, was rushed to the hospital after sustaining injuries.
CPP sought to express remorse over the incident and said it is willing to extend compensation to relatives for their loss.
"In waging a people's war, the New People's Army is always reminded to give the highest priority to the protection of civilian lives and property," it continued. "In this regard, the Masbate incident should not have happened."
It added that investigations are underway by concerned committees within the party "to identify the errors and weaknesses that led to this tragedy."
The Commission on Human Rights has since condemned the incident and said it was already investigating the matter.
"CHR strongly condemns this act," said spokesperson Jacqueline de Guia. "The use of anti-personnel landmine is a violation of the International Humanitarian Law…we stress that even non-State actors, such as the NPA, are bound to respect IHL, alongside the government."
The Philippines' insurgency problem has spanned for over five decades now. The Duterte administration has sought to zero in on the movement, but has also shunned peace talks with the rebels.
***
Credit belongs to : www.philstar.com