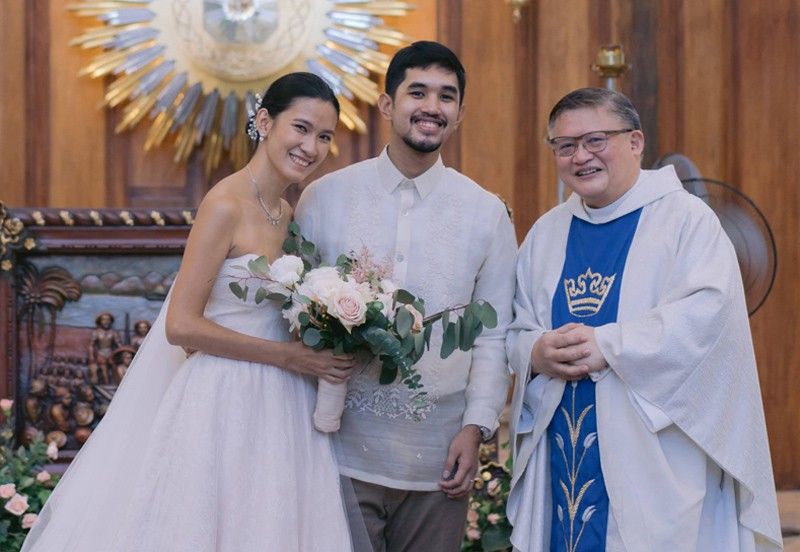 Danielle Osmeña and her seamstress made a total of 17 dresses for her mom and mother-in-law, three sisters, bridesmaids and her yaya Juliet of 27 years for her wedding to Paulo Bautista at St. Alphonsus Liguori.
"Because of COVID-19, the wedding became more personalized," enthused mother-of-the-bride Bettina Osmeña. "Not only did Dani make her wedding gown and for most of the entourage, but her BFFs were all-hands-on-deck. Kay Salgado designed the wedding invitation and other wedding collaterals. Bea Lorenzo sang during the church ceremony. Martina Bautista styled the church and our home according to Dani's vision. Her baby sister Andi was the DJ during the party. And we cooked all our family's favorite dishes. Love overflowed that day with the people who love Dani the most."
The super thoughtful Bettina made sure the virtual wedding guests could share the joyous event by sending us delicious lunch trays to enjoy in our homes.
A majority of the couple's family and close friends could only join the midday nuptials officiated by Msgr. Claro Matt Garcia on Zoom and Facebook since attendees were pared down to the bare minimum allowed by current quarantine restrictions.
Zoom guests from various parts of the globe included glam aunts Minnie Osmeña in Palm Beach, while Paris-based Melissa Lopez was not only awake at 4 a.m., but looked very chic wearing her pink silk pajamas and pearls for the happy occasion.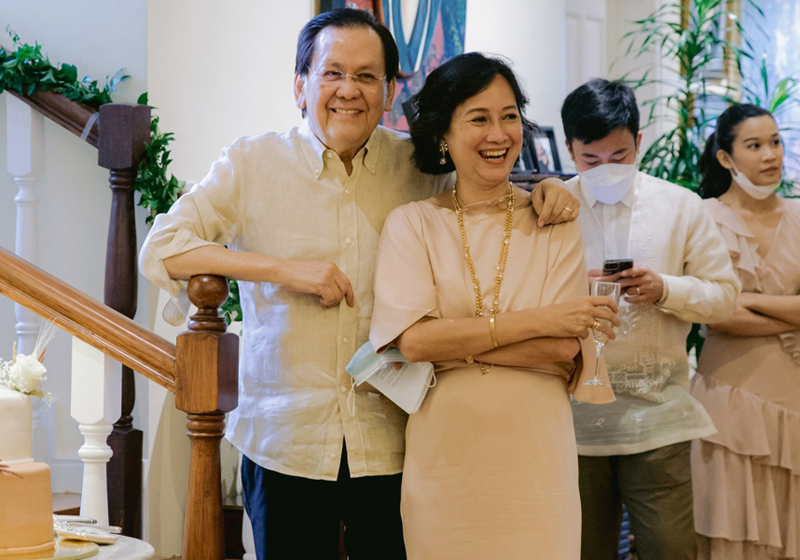 Bride's parents Serge and Bettina Osmeña welcome guests in their home.
How they met
Dani and Pau met through a mutual friend in college.
"Our friend Fern Tensuan (Pau's best man) set us up. He was Pau's high school best friend in Ateneo and ended up being my blockmate and college best friend. As someone who tends to be reserved when meeting new people, I loved how easy it was and how naturally it came talking to Pau. I didn't feel self conscious and I never wanted the conversation to end," relates Dani.
A young woman of many hats, Dani was a management and education graduate of Ateneo de Manila University, but made a career in fashion design with a roster of well-dressed clients.
Pau was one of the of the first hires and current head of business operations for Ninja Van, an express parcel delivery service of Lazada and Shopee. He will soon be resigning to pursue his MBA studies at the Harvard Business School.
He remembers fondly: "I liked how mature Dani was (and continues to be). Talking to her felt like talking to an intelligent, sophisticated and beautiful woman who knew exactly what she wanted in life. All of this remains true to this day."
As I sat with the low-key couple to ask about their love story and future plans, I realized they truly complemented each other.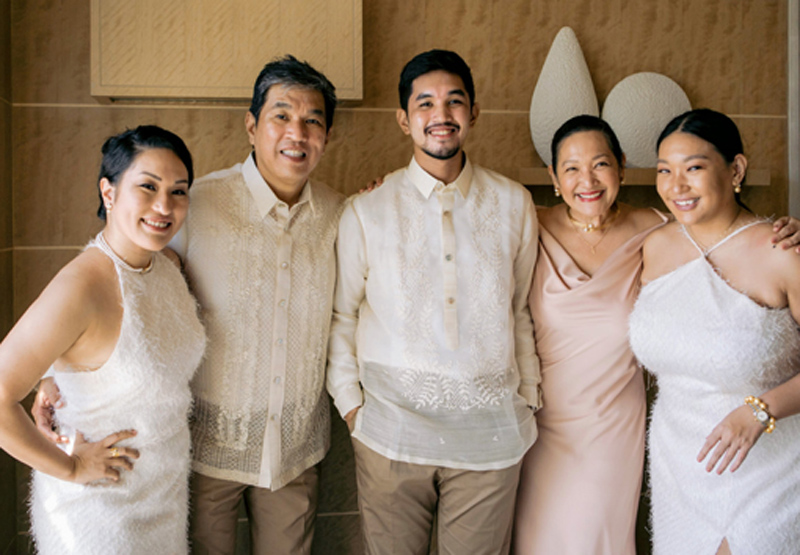 Groom's family: Ricca and Tonio Bautista with children Paulo, Pauline and Bea.
Why did you choose to get married now and not wait for a more appropriate time when COVID restrictions are eased?
DANI: We've been asked that question a lot. Some would say why not wait a bit longer so we could plan a "proper wedding." On a personal level, we felt our move was an apt way to mark this deeper commitment in our relationship. Pau asked if he was the kind of man I wished for and I said no — because he's more than I could've dreamed up. He is someone I trust and know I'd want to build a life and a family with. Having lived together, we understand very well where our strengths and challenges lie and I have confidence in how we've communicated to be able to overcome or continually work through them.
PAU: This past year has felt like a never-ending sleepover with my best friend. Dani is the kindest, most genuine and smartest person I know. Nobody in the world pushes me to be a better person and there's no one I'd rather raise a child with, and spend the rest of my life with.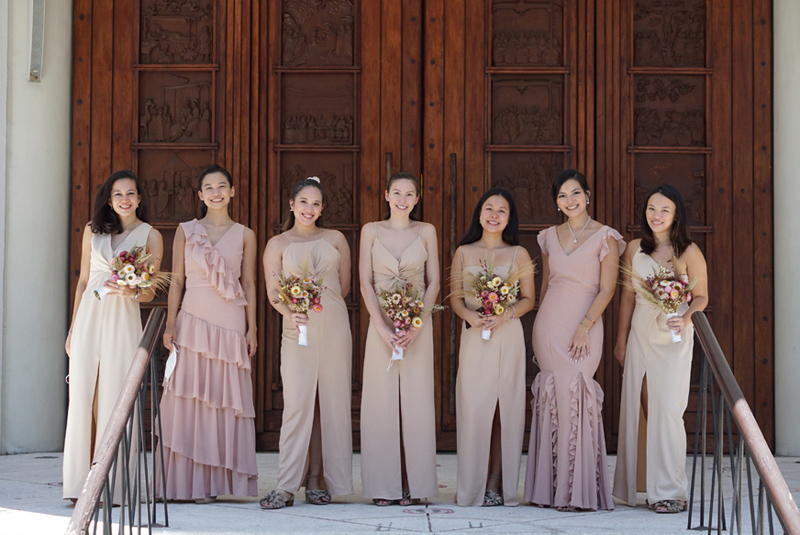 Pretty bridesmaids dressed in their Dani gowns: Alex Guerrero, Bea Lorenzo, Gabby Dario, Aless Marcos, Bambina Jacinto, Kay Salgado, Julia Chiongbian
Tell us about the proposal.
DANI: The proposal was over drinks at Crimson Resort, Boracay. A very intimate moment, nothing extravagant, which is just how I've always wanted it. My first reaction was actually "Are you sure?" Having been together for some time, we've had our fair share of conversations about marriage so it didn't come as a surprise. I just wanted to make sure he knew what he was getting himself into. It was an easy yes for me. I even made it a point to ask Pau not to get down on one knee so the waiters wouldn't make a fuss. It was important to me that it was just us at that moment.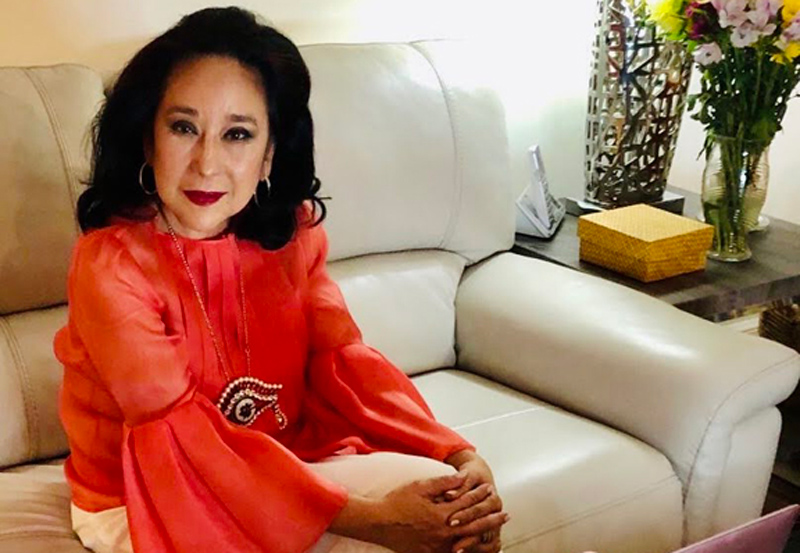 Glam aunt Minnie Osmen?a watching online from Palm Beach
Where will your honeymoon be?
DANI: We actually went backwards and got locked down in El Nido for three weeks prior to our wedding when ECQ was announced in March. It ended up being an apt way to say goodbye to the Philippines, as it's where we found out about Pau's MBA acceptance. After the wedding, we'll mostly be focused on moving. We hope to travel around the US to visit our family members who live there before Pau's classes start.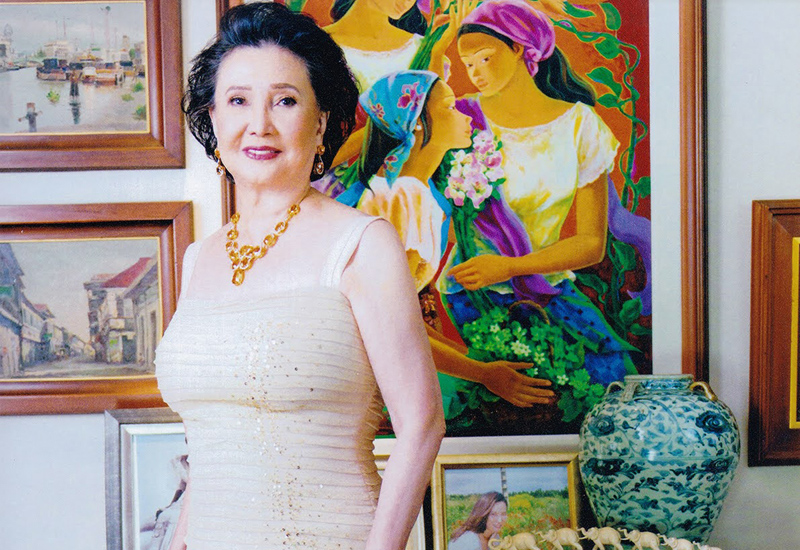 Chona Lopez enjoys her granddaughter's low-key wedding reception held in the Osmeña home.
What are your plans as a married couple?
DANI: We'll be moving to Boston at the end of July for Pau's MBA and I suppose we'll see where life takes us beyond that. We're just excited to be experiencing it together. We're hoping to start a family sooner rather than later when Pau graduates.
***
Credit belongs to : www.philstar.com