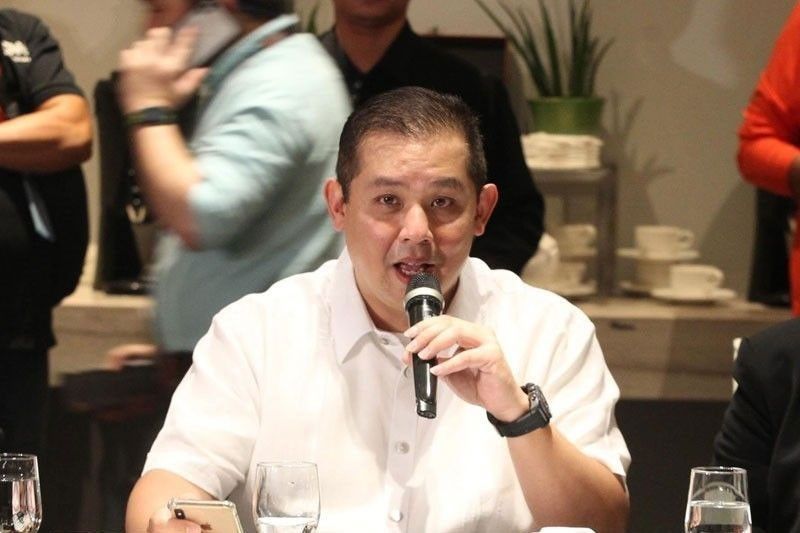 MANILA, Philippines — After a surprise endorsement from President Duterte as possible administration vice presidential bet in 2022, House Majority Leader Martin Romualdez said he is keeping his options open until the filing of candidacy in October.
"Currently, I am keeping my options open with regard to the 2022 elections," the Leyte congressman – a cousin of Sen. Imee Marcos and her younger brother former senator Bongbong Marcos – said in a statement.
"I thank President Duterte for his trust and confidence in me. I am deeply honored that he considers me, a congressman from the Eastern Visayas worthy to serve as the country's next vice president. For this, I will be eternally grateful to the President," he said.
"For sure, the President's warm support and words of encouragement will weigh heavily on whatever decision I have to make in October 2021. Let me assure the President that I will seek his guidance in the pursuit of this decision," he said.
Romualdez, who also heads the once-powerful and now re-emerging political party Lakas-CMD, hinted that he is "not closing" his door on the 2022 national elections.
The official heads the House committee on rules. But as House majority leader, Romualdez promised to remain "focused on steering the approval of vital legislative measures that the President wishes to be passed before his term ends next year."
Duterte earlier said he would give way and support Romualdez should the lawmaker decide to run for vice president.
"Kapag tumakbo si Romualdez (If Romualdez runs), I will support him. Iyan ang pinangako ko. Walang problema (That, I promise, no problem). I will honor my word," Duterte said during a ceremonial reenactment of the signing of several bills at Malacañang Palace.
The President said he promised Romualdez his support last year at the height of the speakership tussle at the House.
"When they were jockeying the positions for the so many contenders, Rep. Lord Allan Velasco and Rep. Alan Peter Cayetano, sinabi ko hatiin na lang ninyo (I said just split it). But the problem was, there was a serious contender also for speakership, Congressman Romualdez," he said.
"Kaya ang deal ko sa kanya ganito: huwag ka na lang

maghabol diyan (So my deal with him was this: don't make a run for it) and next election, which is just around the corner, if you run for vice president, I will support you and I will hold on to that commitment," Duterte said.
Sources say Duterte was impressed with Romualdez's being a consensus builder as well as with his staying neutral in the speakership fight between Cayetano and Velasco.
Still a tandem?
Despite President Duterte's endorsement of Romualdez, chief presidential legal adviser Salvador Panelo said he still believes it will still be a tandem of Davao City Mayor Sara Duterte-Carpio and her father in 2022.
"They will not say it. But if there will be a clamor, they cannot turn it down. The style of the father and daughter is that they will not offer their services. They do not want to be criticized that they are interested," Panelo told The STAR in an interview.
Panelo made the statement after the Davao City mayor declared that the Duterte-Duterte tandem will never happen if she runs for president.
On Duterte's endorsement of Romualdez, Panelo said he does not think the congressman is keen on running for a higher post.
"I don't think Martin is interested, not even a body language that will make you believe he will run," Panelo added. He claimed people's support for a Sara presidency is growing.
In his visit to Nueva Ecija the other day where he helped in the distribution of sacks of rice to constituents of Gov. Oyo Umali, Panelo claimed the people declared their preference for the Davao mayor or Sen. Bong Go as administration standard bearer in 2022.
"Whenever I go around, in the course of my speech… I would ask the audience who they see as the next president, it's really Sara. If Sara won't run, then they'd go for Bong Go. And they are consistent," Panelo said.
But presidential spokesman Harry Roque Jr. said the public would have to draw its own conclusions after Duterte said he would give way to Romualdez if the latter decides to run for vice president.
Roque pointed out that the President seems interested in running again as he has some "unfinished" tasks especially in fighting crime and corruption.
"So, the question is: does this mean that the idea of President Duterte to run for vice president is already out of the picture? Well, on the basis of his actual words, I guess you can conclude either way," Roque said.
"You can conclude that he is still thinking, considering running for vice president because of the unfinished tasks," he said.
"But at the same time, you can conclude that he has decided against it because he said, 'vice president, wala iyan eh. It's just a flower there until the other wilt.' So textual analysis, you can make your own conclusions, either way, there is textual basis," he said.
***
Credit belongs to : www.philstar.com