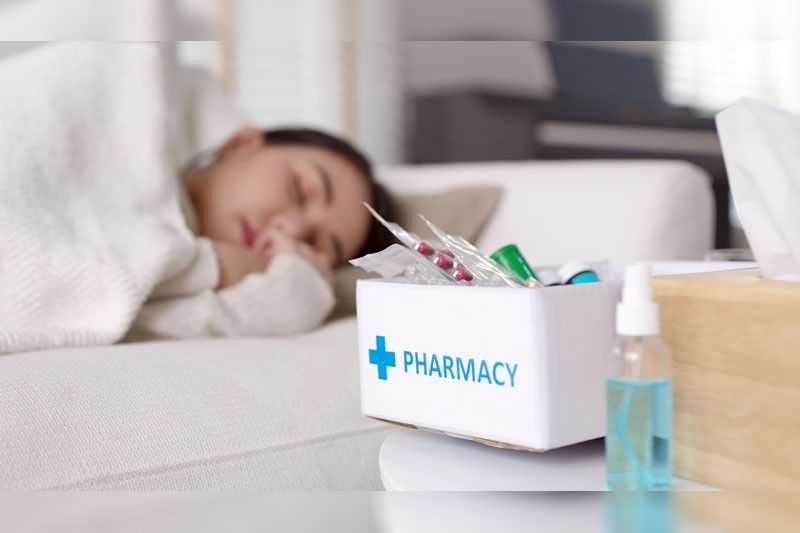 MANILA, Philippines — As the pandemic continues to rage and more people get infected with COVID-19, it is important to be knowledgeable about what one can do when faced with the situation when a friend, family member or housemate tests positive for the virus.
With many hospitals reporting that they are operating on full capacity, there have been cases that some patients were asked to recuperate from the virus at home.
Makati Medical Center, through its Section of Infectious Diseases, gives tips on how to manage cases with mild symptoms of the coronavirus.
Isolate the family member
Ideally, a COVID-19-positive person should be in his or her own room with its own bathroom for the prescribed period of isolation.
Dr. Marion Kwek, Infectious Diseases Specialist from MakatiMed, shared crucial steps that one or a family can strictly observe while caring for a family member who is sick with the virus.
"If that's not possible, limit your movements in shared spaces like the kitchen or bathroom, with all household members wearing a mask. Eating entails mask removal, so avoid eating at the same time. Constantly clean these spaces, as well as high-touch surfaces like doorknobs, light switches, faucets, electronic devices and others. Households who may find it extremely difficult to comply with these measures may also be isolated in the COVID-19 isolation facilities of their respective local government units," she advised.
Inform a doctor
The doctor stressed the importance of explaining the patient's symptoms in detail. This is because it will help him prescribe the appropriate medications.
"Do not give medicine that other people take, that you just read about online, or that was not recommended by a doctor," Dr. Kwek stressed.
Advise BHERT
Your Barangay Health Emergency Response Team (BHERT) must be alerted of a COVID-19-positive family member even if he or she does not have symptoms or is experiencing only mild symptoms.
"BHERTs can facilitate transfers to treatment and monitoring facilities should the need arise," Dr. Kwek explained.
Become a contact tracer
It is important that you should be able to contact the people your COVID-19-positive family member or housemate was exposed to.
"These people may want to undergo a swab test to find out if they are positive, so they can have appropriate care, and for them to also trace the people they may have come in contact with. Regardless of the test result, they should still quarantine for 14 days from the date of the last exposure to a confirmed case, to monitor for symptoms and prevent others around them from potential infection," Dr. Kwek explained.
Create a healthy environment
The doctor advised to provide a well-ventilated room that has ample sunlight for the patient. It is also important to provide nutritious food loaded with vitamins and minerals such as fruits and vegetables to strengthen the body's immune system.
"Fighting a fever can also dehydrate a person. Supply the patient with regular fluids, from water to natural fruit juices," she said.
Protect yourself
You may be tasked to take care of a sick person but it is also important that you safeguard your health.
Wear a disposable mask and gloves while directly taking care of the patient. Do not forget to throw away the mask and gloves with every use.
Always be reminded of the golden rule: wash and sanitize your hands thoroughly and frequently. It is always important to maintain a distance of at least six feet (two meters) from the patient.
"Please don't neglect yourself," Dr. Kwek emphasized. "Eat nutritious food, supplement your meals with vitamins, exercise regularly and get adequate sunlight and fresh air, and give yourself time to rest and recharge."
Protect others
"Your exposure to a COVID-19-positive person makes you a potential carrier of the virus," Dr. Kwek underlined. "Limit, if not avoid altogether, prolonged face-to-face encounters with the rest of the family members, friends, and outsiders to prevent them from possible infection.
As one viral haiku stated: 'We isolate now. So when we gather again, no one is missing.'"
Recognize warning signs
While majority of those with COVID-19 infection have mild symptoms, there are those who can progress to more severe COVID-19.
Seek emergency medical care immediately if your family member has trouble breathing or is breathing very fast, has persistent chest pain, unable to stay awake, or has pale lips or nail beds. A home pulse oximeter can also be used to monitor a patient's oxygen status. Decreasing levels to less than 94% in those with previously normal readings is a warning sign of disease progression and would require additional medical intervention.
MakatiMed now offers TeleMD consultation services to help people manage mild to moderate COVID-19 symptoms. You can choose from five or 10 teleconsultation sessions inclusive of COVID Care Packs. TeleMD is available 8 a.m. to 5 p.m. from Mondays to Saturdays through the MMC HealthHub. For more information, call 02-8888-8999 local 2189 or 2832.
Prepare supplies
A COVID-19-positive person should have his or her own utensils, plate, glass, toiletries, medicines and vitamins, food, drink, face mask and shield, and even dishwashing soap and sponge. His laundry must also be separate from the rest of the family.
Here are other essentials one can consider:
Supplemental nutrition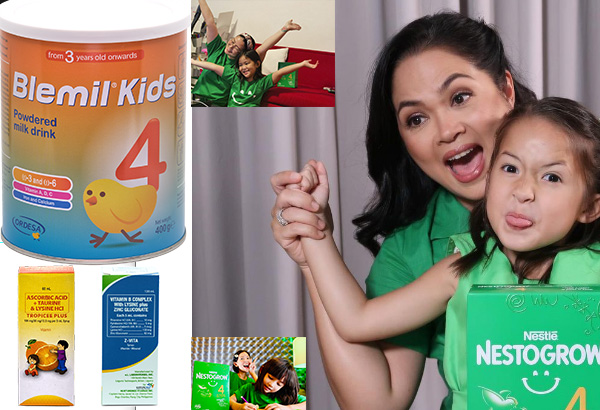 Another way to strengthen kids' health is by fortifying their body and immunity with essential vitamins and minerals through supplements.
As most of us know, choosing the right complementary food can help children meet their nutritional needs, enhance growth and development and can contribute to the prevention of acquiring diseases. Blemil Kids 4 is a product borne out of the partnership between NurtureMed, a subsidiary of Dyna Drug, and Laboratorios Ordesa, a maker of nutritional products for infants and children, two companies that share the same passion in nurturing the health of Filipino families.
Blemil Kids 4 is an ideal milk for growing kids three years old and up. It adapts to the digestive and renal capacities of children starting at 3 years old, while ensuring the correct amount of nutrients provided to the body to improve their physical and intellectual growth. It has prebiotic FOS (fructooligosaccharides) that promote the growth of "microbiota," including bacteria, in the gut area. A microbiota rich in bifidobacteria and lactobacilli may contribute in building up kids' natural defenses against sickness and at the same time promote better intestinal flow for better digestion and absorption of nutrients.
It is also enriched with linoleic and alpha-linolenic acid to help kids with regard to their visual and cognitive development, plus L-carnitine and taurine to help support and maintain a general healthy state among kids. It is also a good source of iron, vitamin D and calcium to help prevent micronutrient deficiencies and contribute to good bone mineralization. It is distributed in the Philippines by Nurturemed Pharma Inc., a subsidiary of Dynadrug Corporation and is available at goodwill.market.
Another way to strengthen kids' health is by fortifying their body and immunity with essential vitamins and minerals through supplements such as Tropicee Plus and Z-Vita, distributed by NurtureMed Pharma Inc., a subsidiary of Dyna Drug Corporation, and are available at Mypharma.ph. Tropicee Plus Syrup is a nutritional supplement for the growth and development of kids two to 12 years old. It contains ascorbic acid (as sodium ascorbate), plus other amino acids such as taurine and lysine to help build their young bodies and make them strong as they grow. Z-Vita, meanwhile, contains Vitamin B Complex, lysine for proper growth and zinc gluconate, an essential micronutrient that strengthens the immune system of infants and kids up to 10 years old.
Now that we're mostly staying at home, kids don't get to explore as much as they want to. Good thing, there are many different ways we can help them have grow happy adventures at home as Nestogrow 4 recently hosted a fun and meaningful virtual get together with mommies to help them learn some useful insights on how to make their kids grow happy with "HappinaBahay, HappinaBuhay: 99+ Ways to Grow Happy at Home." Celebrity mommies Judy Ann Santos-Agoncillo, Chynna Ortaleza, Aileen Iwamoto, Ciara Magallanes and more, even shared their own tried and tested tips on how they make sure their kids are happy and healthy.
The event's guest expert, Dr. Jennifer Olay, started with the importance of eating well and how it supports your child's healthy growth and development. "It is very important to give an adequate and balanced diet. S'yempre dapat wasto at sapat ang hinahain nating pagkain sa ating mga chikiting," said Dr. Olay.
She also explained the basic food groups, Go, Glow, and Grow, the importance of having age-appropriate milk included in kids' meals, and how everything starts with a healthy tummy, adding that "almost 80% of anti-body producing cells comes from the gut." So when they feel right, they can enjoy other ways to #GrowHappy! "Bilang mommies kailangan po natin i-check kung may probiotics ba yung gatas na binibigay natin because it contributes to a healthy tummy," Dr. Olay added.
Apart from it's new look, Nestogrow 4 is proud to be the only growing up milk with Comfortis Grow, a unique combination of L.Comfortis probiotic, magnesium, calcium, special fat blend with calcium friendly fatty acids and 100% lactose, which helps in the nutrient absorption in the tummies of kids so they grow happy and healthy,
"Laging tandaan, the first step to growing up happy ay nagsisimula sa kumpletong NutriTYAN papunta sa puso at sa isip. Ang chikiting na happy ang tummy ay happy ang puso at laging handa ang isip para matuto at harapin ang kahit na anong klaseng challenges ng buhay," Judy Ann said.
Comfortable clothes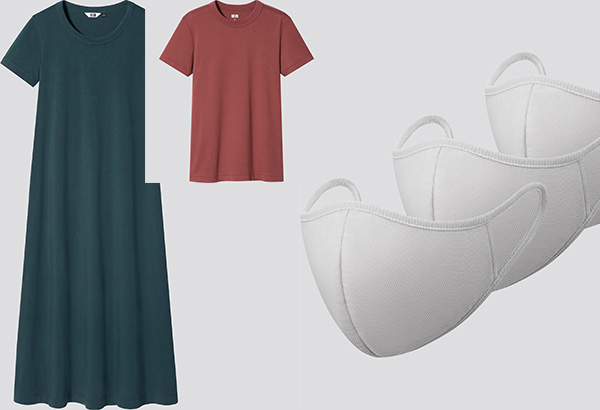 To mark its 9th anniversary in the Philippines, Uniqlo offers novelty items and discounts on its 100% cotton T-shirts, shirts with quick-drying technology for sweating, and cotton shorts, pants and dresses.
The brand opened its first retail location in the Philippines in June 2012, with a 1,550 square meter floor space at the SM Mall of Asia. Since then, the Japanese retailer has expanded its presence in the country to 65 stores nationwide and launched its online store to offer the complete range of LifeWear to more Filipinos.
"Since our launch in 2012, we have been very grateful for the warm welcome that we received from everyone. As we mark another milestone in the country, we want to say 'Salamat, Pilipinas' to our loyal customers for making LifeWear as their everyday clothing through our exclusive offers and promotions," said Masayoshi Nakamura, Uniqlo Philippines Chief Operating Officer.
Organic, natural food
Available in Lazada and Shopee, Glorious' sugar-free and non-dairy coffee and choco mixes offer a healthier alternative as these low-calorie drinks come in variants infused with non-acidic antioxidants, vitamins and minerals that can boost the immunity against diseases like COVID-19.
Glorious Blend of Glorious The Stevia Company claims to be the country's first Stevia grower and manufacturer certified and recognized by the Food and Drug Administration as the country's first Stevia company. This Filipino-owned company also claims to be a pioneer in 100% organic and natural products.
Personal hygiene and disinfectants
From hand sanitizers to moisturizing and nutrient-infused lotions and body washes, Avon Care offers affordable and quality products that aim to provide 24/7 care and protection from germs, bacteria and free radicals.
Dental health care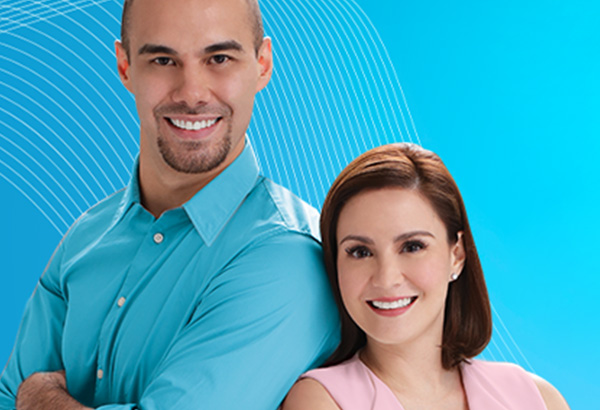 Doug and Chesca Kramer
Our lifestyles may have changed drastically during the pandemic, especially as lockdowns continue to be enforced in many cities. As we are asked to stay at home to help fight the spread of the virus, we also have to deal with various situations like working and studying from home. Visits to the dentist and caring for our oral health can sometimes be neglected in the midst of these challenges.
But taking care of our teeth and gums is not only essential to maintaining a healthy mouth; good oral care is also closely linked to our overall health.
According to the World Health Organization (WHO), oral health is a key indicator of overall health, well-being and quality of life. They further shared that most oral diseases share some risk factors with conditions like cardiovascular diseases, cancer, chronic respiratory diseases and diabetes, among others.
These risk factors include tobacco use, alcohol consumption and unhealthy diets high in sugar, all of which are increasing at the global level. For example, it is reported that diabetes is linked with the development and progression of periodontitis (a severe gum infection that can lead to tooth loss and other serious complications). There is also a link between high consumption of sugars and the development of dental caries, diabetes and obesity.
As oral healthcare advocates for Gumtect, celebrity couple Doug and Chesca Kramer wants to remind Filipinos that good teeth and gum care remain a must during this pandemic.
"Being under quarantine, working and studying from home, I understand that it's a frustrating situation for all of us. So, we may all have indulged a bit more in stress eating, snacking on sweets and coffee. I also have a sweet tooth so I can relate to this, but we always need to remember to practice good oral hygiene because neglecting this can lead to more serious health problems," shared Doug.
Doug advocates oral care with the use of Gumtect Gum Care toothpaste, which works to promote healthy gums, helps protect against harmful mouth bacteria, and helps to moisturize and strengthen the gums. The brand is claims to be the only toothpaste label with Gumshield, which contains Allantoin to improve the condition of gums, Vitamin E, which moisturizes gums, and Triclean, which helps to reduce the formation of plaque and shields against harmful mouth bacteria.
As a mom, Chesca agreed that it is important for her to continue to help her kids build good oral care habits. As someone who has sensitive teeth, she also needs to take care of her gums, so she doesn't suffer from pangingilo. She recommended using the brand's Sensitive toothpaste and mouthwash which have the Dynamic Desensitizing System to help relieve tooth sensitivity.
Both Gumtect Sensitive and Gumtect Gum Care also have Active Anti-Cavity Protection that helps to ensures fresh breath and strong teeth enamel. This proudly Pinoy brand is also professionally accepted by the Philippine Dental Association.
To learn more about the importance of overall gum health and how to live your life to the fullest, check out and follow www.facebook.com/Gumtect.
Clean dishwashing sponges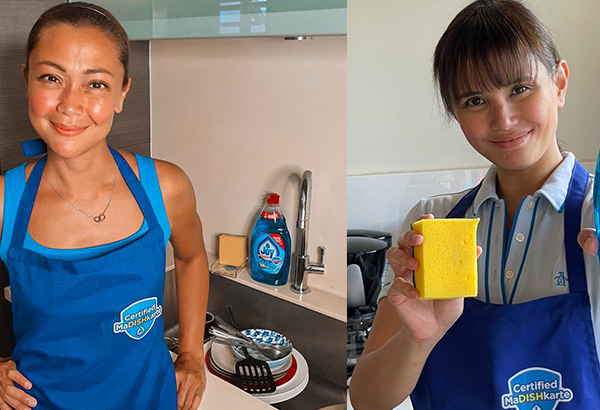 From left: Jodi Sta. Maria and Isabel Oli-Prats
Clean homes don't just miraculously clean themselves and in the whirlwind of busy lives, it's important to learn effective tips and tricks to keep your house clean and healthy. This includes making sure you're more vigilant with the cleaning materials you use, as well as how you clean them. While we go above and beyond in disinfecting the things that come inside our homes, we must also give that same attention to the ones already inside. What's one of the dirtiest objects in your house? It's–guess what–that small squishy soft sponge you use to wash the dishes.
Some of the bacteria aren't harmful and might just make your sponges smelly, but others could potentially make you sick. The worst part is it can contaminate everything it touches if left unsanitized, like dishes and utensils.
While it's tempting to just toss it back as soon as you're done with washing the dishes, always remember that our cleaning tools also need a good cleaning. "I clean my sponge daily and really take time to rinse it properly to make sure there are no food scraps left. I don't mind spending extra minutes doing it. It's worth it especially if it means my family can be safer," shared top actress Jodi Sta Maria.
Another tip from Isabel Oli is to lather it up with dish soap and rinse it with running water. "The kitchen sponge can easily pass on bacteria to everything it touches. If you have a clean sponge, it decreases the odds of spreading the bacteria," the actress said.
After washing your sponge, wring out your sponge completely after each use. Remember, a properly wrung-out sponge will dry quicker, and a drier sponge equals a cleaner sponge.
"Soggy wet sponges harbor more bacteria so I let mine completely dry after every use with a proper sponge holder. I make sure it has proper drainage so it dries faster," said Danica Sotto-Pingris.
"Para sa akin, dapat ugaliin na magpalit ng mga mga kitchen sponge. A good rule of thumb according to experts is to replace it every one to two weeks, depending on the amount of use." said Neri Miranda.
Kitchen sponges are sneaky harbors of bacteria, molds, and yeast. If you've ever kept a sponge so long it started to smell bad, what you're smelling is a happy colony of bacteria growing in it.
When it comes to dishwashing liquid, these celebrity moms always choose the trusted dishwashing liquid with proven anti-bac properties, Joy Antibac Dishwashing Liquid. It kills 99.9% of germs on dishes and kitchen sponges, giving you the peace of mind that your dishes and sponges are as clean as they can be.
Medicines accessible online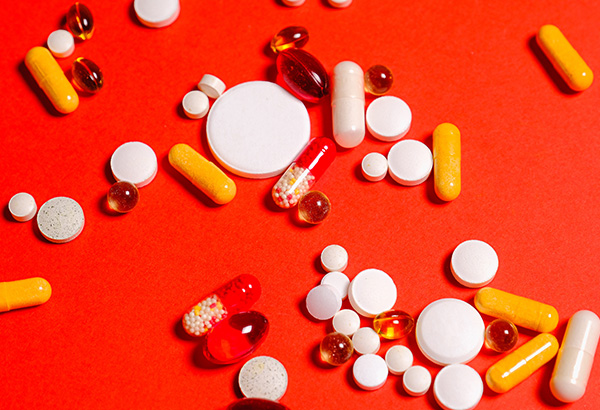 Created to fulfill the need for a one-click online pharmacy in the Philippines that aims to deliver quality medicine and vitamin products that can be delivered right into one's doorstep, Mediclick (Mediclick.ph, also on Facebook and Instagram) comes from the founders' own frustrations from buying medicines online—think numerous, confusing chat groups and the overwhelming coordination of orders and delivery. It is said to be thoroughly developed with ease of use and convenience in mind.
Mediclick lets shoppers search for products with ease through its search tool, as well as a list of categories that aims to efficiently give an overview of all the kinds of pharmaceutical needs. These categories include: Multivitamins, Pain/Fever Care, Cough and Colds Care, Asthma Care, Allergy Care, Diabetes Care, Sleep Care, Blood Pressure Care, Cholesterol Care, and more.
The processing of prescription medicines is also aimed to be easier. After placing your order on the website, a customer service representative will get in touch with you to request a copy of your prescription via e-mail. Once verified, your medicines will be prepared and delivered to your location the next day.
It also has a "Shop For Me" feature, which is a hassle-free personalized service that takes care of shopping for the medicines that you need. Furthermore, authenticity is 100% guaranteed as the site is officially partnered with legitimate and accredited healthcare companies for one's peace of mind.
Designed to elevate your pharmacy experience by eliminating the need to go out and gear up for the long lines, the website also minimizes exposure to COVID-19. Simply order online and wait for the delivery of your medicines and vitamins the next day.
During these unprecedented times, it is of the utmost importance to take good care of one's self and loved ones as stress takes a toll on one's immune system.
RELATED: LIST: COVID-19 comorbidities, risk factors, treatment
***
Credit belongs to : www.philstar.com