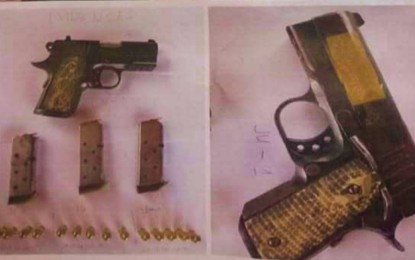 COTABATO CITY – Two persons were arrested for possession of a gun and ammunition during a Commission on Elections (Comelec) voters registration hearing in Datu Blah Sinsuat, Maguindanao on Monday.
In a report, Lt. Pasigan Abas, Datu Blah Sinsuat police officer-in-charge, identified those arrested as Datu Anabe Batua and Abe Lumalag, both of Barangay Tambak of the municipality.
Abas said the two were apprehended by policemen following a minor commotion at the venue of the Comelec hearing at the municipal hall.
The Comelec hearing intends to determine inactive or double registrants in an area, to clean the Comelec list of voters.
Police, backed by members of the Philippine Marines, prevented the commotion from going out of hand after two groups traded barbs during Monday's hearing of the local Election Registration Board (ERB) when the application as a registered voter of Bai Ingrid Sinsuat, daughter of the Sinsuat political clan in the province, was questioned.
Authorities intervened when followers of Bai Ingrid and those of village chair Asanal Sinsuat of Barangay Resa were exchanging words.
Four residents, including Asanal, contested her application for registration as voter-resident of Barangay Resa.
"It was at this point, where a compact .45-caliber pistol fell from the waist of Batua, prompting authorities to nab him," Abas said.
A further search on Lumalag, a colleague of Batua, yielded three .45 caliber magazines with ammunition.
Both are supporters of Bai Ingrid, who insisted that Batua is authorized to carry a gun.
Bai Ingrid was the wife of the late Datu Hoffer Ampatuan, son of the late former Maguindanao Governor Andal Ampatuan Sr.
Locals said Bai Ingrid has been planning to run for town mayor, but she did not respond when asked by reporters.
She insisted though that she is a resident and that her family has an ancestral home in the village.
Asanal said Bai Ingrid resides in Davao City and has not been a resident of the village for the past six years.
Datu Blah Mayor Marshall Sinsuat also said that Bai Ingrid is no longer staying in Barangay Resa.
The issue was not resolved and tension ran high when supporters from both sides gathered at the town government center.
The Comelec's ERB is yet to schedule another hearing on Bai Ingrid's application.
Charges for violation of R.A. 10591 or the "Comprehensive Firearms and Ammunition Regulation Act" were filed against Batua and Lumalag, now detained at the Datu Blah Sinsuat police station. (PNA)
***
Credit belongs to : www.pna.gov.ph