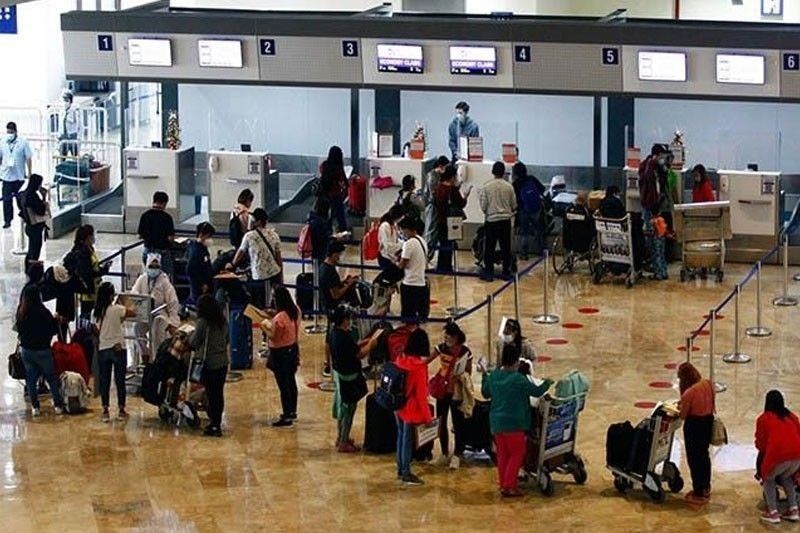 MANILA, Philippines — President Duterte has approved the recommendation of the government's pandemic task force to extend the travel ban on 10 countries to contain the more transmissible variants of COVID-19.
These restrictions would be enforced from Aug. 1 to 15 on passengers from India, Pakistan, Nepal, Sri Lanka, Bangladesh, Oman, United Arab Emirates, Indonesia, Malaysia and Thailand, presidential spokesman Harry Roque announced yesterday.
The Philippines has been imposing a travel ban on India since April 29 and from Pakistan, Bangladesh, Nepal and Sri Lanka since May 7. This was widened on May 15 to include UAE and Oman and on July 16 to include Indonesia. Thailand and Malaysia were added to the list of countries subject to travel restrictions last July 25.
Filipinos returning to the Philippines through the government's repatriation efforts are exempted, although they still have to be subjected to quarantine and testing protocols.
The Inter-Agency Task Force for the Management of Emerging Infectious Diseases (IATF) has also updated its list of "green" countries, jurisdictions and territories.?Under IATF rules, all arriving individuals fully vaccinated in the Philippines or in "green" countries, jurisdictions or territories and who stayed exclusively in those low-risk areas in the past 14 days immediately preceding arrival shall undergo a seven-day facility-based quarantine upon arrival.
Previously, the seven-day quarantine period only covered individuals who were fully vaccinated in the Philippines. Those who got their COVID-19 shots from other countries were required to undergo a 10-day facility-based quarantine.?The areas that are in the "green" list are Albania, American Samoa, Anguilla, Antigua and Barbuda, Australia, Azerbaijan, Benin, Bermuda, Bosnia and Herzegovina, Brunei, Bulgaria, Burkina Faso, Cayman Islands, Chad, China, Comoros, Cote d' Ivoire (Ivory Coast), Dominica, Djibouti, Equatorial Guinea, Falkland Islands, Gabon, Gambia, Ghana, Grenada, Hong Kong, Hungary, Kosovo, Laos, Mali, Marshall Islands, Federated States of Micronesia, Moldova, Montserrat, New Caledonia, New Zealand, Niger, Nigeria, North Macedonia, Northern Mariana Islands, Palau, Poland, Romania, Saba (special municipality of the Kingdom of Netherlands), Saint Barthelemy, Saint Pierre and Miquelon, Singapore, Saint Eustatius, Slovakia, Taiwan and Togo.?The IATF has also expressed support for the draft joint administrative order on the revised standard guidelines on the strict observance of health protocols in the conduct of licensure examinations during the pandemic.
The order, which will govern all licensure examinations for the duration of the public health emergency, was drafted by the Department of Health, Professional Regulation Commission and Philippine National Police.
Meanwhile, local carriers are preparing to make adjustments on their flights in line with the government's directive to return Metro Manila to enhanced community quarantine.
Flag carrier Philippine Airlines (PAL) said it could cancel or reduce flights as the government extended a heightened general community quarantine for Metro Manila until Aug. 5 and imposed ECQ from Aug. 6 to 20.
Cebu Pacific said passengers who wish to postpone their domestic flights and those traveling for non-essential reasons until Aug. 20 may cancel up to two hours before their scheduled time of departure, and may select their preferred option through the manage booking portal on the company's website.
AirAsia Philippines, meanwhile, said its domestic flights to and from Manila would also continue to operate subject to compliance with local government unit restrictions on frequencies and capacity.
The airlines advised passengers to check on their respective websites for updates in the coming days. – Richmond Mercurio
***
Credit belongs to : www.philstar.com