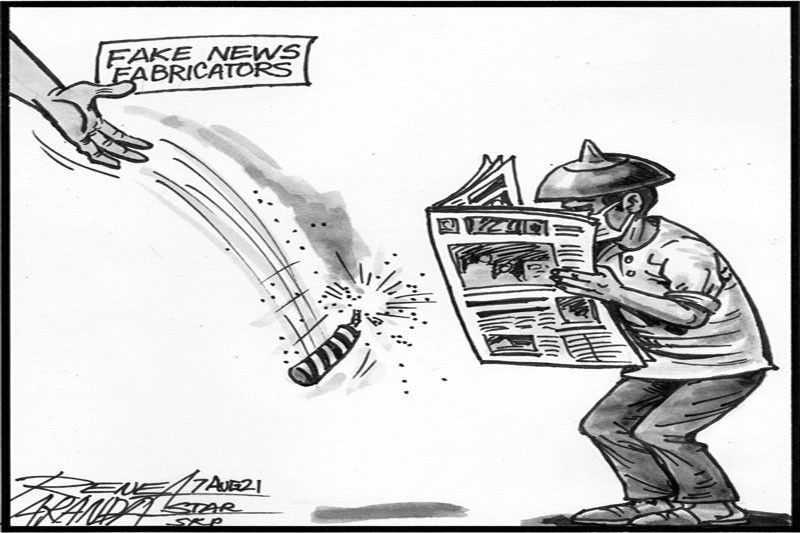 On August 6, the country recorded 10,623 new COVID infections – the highest single-day figure since April 16 at the height of the killer surge, when 10,726 new cases were recorded. There were 247 COVID deaths yesterday – also the highest in a single day since April 9 when 401 succumbed to the virus – bringing the total to 28,673.
These figures could still surge in five to seven days as we see the impact of the mad jostling for vaccination in several areas last Thursday, the eve of the start of enhanced community quarantine. The crowding, notably in the cities of Manila, Las Piñas and Antipolo, started even before dawn as reports spread on social media that unvaccinated people would not receive their ayuda and would be barred from leaving their homes during the ECQ.
Symptoms of Delta COVID infection reportedly emerge after five or seven days. Those who believed the social media alerts and scrambled to get their shots should pray that they didn't get caught in superspreader events and would not pass on the highly contagious Delta variant to their loved ones.
The barangay, police and local government personnel in the areas were caught flat-footed. It took some effort to disperse the crowds, after reassuring them that the social media stories were fake news. But vaccination had to be suspended in some areas to stop the crowding.
Who spread the fake news is now being probed by the National Bureau of Investigation and Philippine National Police. The Department of the Interior and Local Government said it could have been a deliberate attempt to sabotage the vaccination campaign, and those responsible must be held accountable. Superspreader events can lead to serious illness and even death. A Malacañang official said those behind the disinformation deserve to get Delta-driven COVID.
Tracking down the source of the fake news will test the capabilities of anti-cybercrime units. They can enlist the help of social media platforms and telecommunications companies. Facebook has shown that it can go after operators of troll farms.
As for the general public, the unfortunate events should provide lessons in information consumption. There are reliable sources of news, current events and public service information operated by the private sector. The government can also organize a system of swiftly counteracting dangerous disinformation. There is enough confusion in this pandemic without lowlifes fomenting chaotic superspreader events.
***
Credit belongs to : www.philstar.com