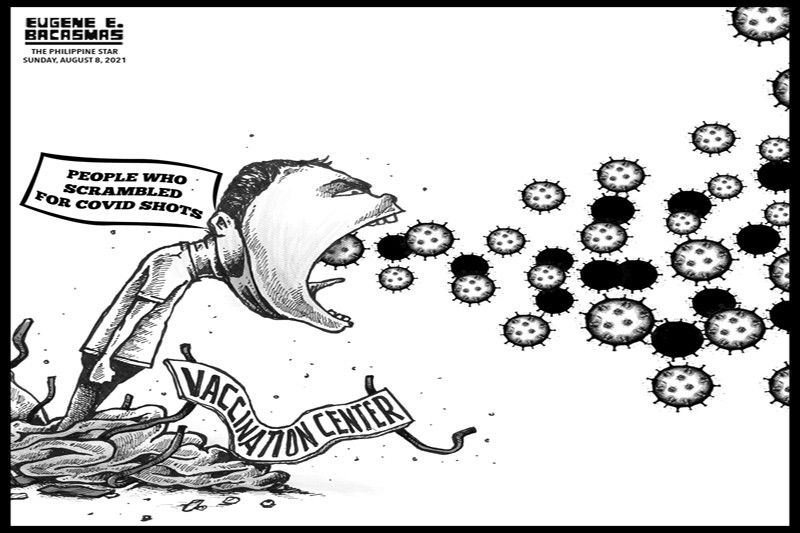 Because of the acute weakness of the country's contact tracing capability, it is unlikely that the government will be able to trace the thousands of people who scrambled for COVID-19 shots last Thursday at several vaccination sites in the cities of Antipolo, Las Piñas and Manila.
What authorities can do is to remind everyone about the risk of COVID infection in such gatherings where physical distancing clearly flew out the window. The risk has been intensified by the fact that the Delta variant of COVID has now been detected in all cities and one town of Metro Manila.
Epidemiologists have warned that while the original coronavirus can jump from one person to another during sustained exposure of about 15 minutes, Delta is so infectious it can be transmitted in just 15 seconds. Its viral load is also so huge that it can infect children and, in a few cases, even fully vaccinated individuals regardless of the jab brand.
The massive crowds that flocked to the vaccination centers on the eve of the start of the lockdown in Metro Manila obviously were not yet inoculated and therefore at high risk of infection. Health officials are reminding them to avoid close contact with their household members and to monitor themselves for three to five days for the emergence of symptoms – in the case of Delta, high fever, headache, sore throat and runny nose that may be mistaken for an ordinary illness.
Dr. Ted Herbosa, special adviser to the National Task Force on COVID-19, also warns those who were at the superspreader events to avoid vaccination at least for 10 days. This is because they might already have the coronavirus but are asymptomatic or have very mild symptoms. And people could end up hospitalized if they are vaccinated against a disease that they already have at the time of the inoculation.
Metro Manila and several other areas are back to the economically costly strictest enhanced community quarantine for two weeks in hopes of nipping Delta in the bud. Attaining this objective is now seriously jeopardized by that mad rush for vaccination due to fake news on social media linking jabs to ECQ ayuda. The Manila city government also suspects that agitators deliberately set off the rush to the vaccination sites.
Regardless of what triggered the events, those who were present are potential COVID superspreaders. They must avoid trying to get vaccinated for now. They must isolate, monitor themselves for symptoms, and get tested if symptoms appear. They will be saving not only themselves but also their loved ones from illness and possible death.
***
Credit belongs to : www.philstar.com