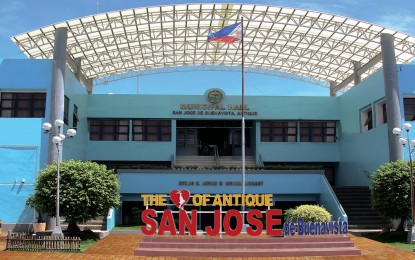 SAN JOSE DE BUENAVISTA, Antique – The mayor of Antique's capital town is eyeing the relocation of their municipal hall outside of the town proper to decongest traffic.
San Jose de Buenavista Mayor Elmer Untaran said in an interview Tuesday he will pursue the plan to have the municipal hall be transferred during his third and final term.
He is running unopposed this coming May 2022 elections.
"The plan to have the municipal hall transferred had been conceptualized in 2018 yet, but it never had been materialized," he said.
He said on his last term, he will be looking for a fund for the lot acquisition and the construction of the new municipal hall initially targeted to be in Barangay Bantayan.
The present municipal hall is located right at the heart of their commercial district and has no parking lot for their transacting clients.
"Traffic congestion is being experienced daily at the junction of the municipal hall because of the people who park their cars only at the roadside," he said.
The municipal hall will be rented out to national government offices in the province that have no permanent offices.
As of now, the Land Bank of the Philippines is now renting a portion of the ground floor of the municipal hall for its Antique main branch.
In addition to relocating the town hall, Untaran also said he will upgrade the town's fish port to become a feeder port.
The fish port currently caters to six to 17 fishing boats daily. It was built by the Philippine Fisheries Development Authority (PFDA) and turned over to the municipality on Oct. 4, 2019.
Untaran said the plan is to establish a berthing area and other facilities for fish brokering so it could accommodate not only the fishing boats but also the bigger cargo vessels.
He said during his last term, he plans to finish the second floor of the Business Park building, which is just across the municipal hall.
"The second floor will be rented to an interested call center," he said. (PNA)
***
Credit belongs to : www.pna.gov.ph