Duque tells LGUs: Ramp up jabs for A2, A3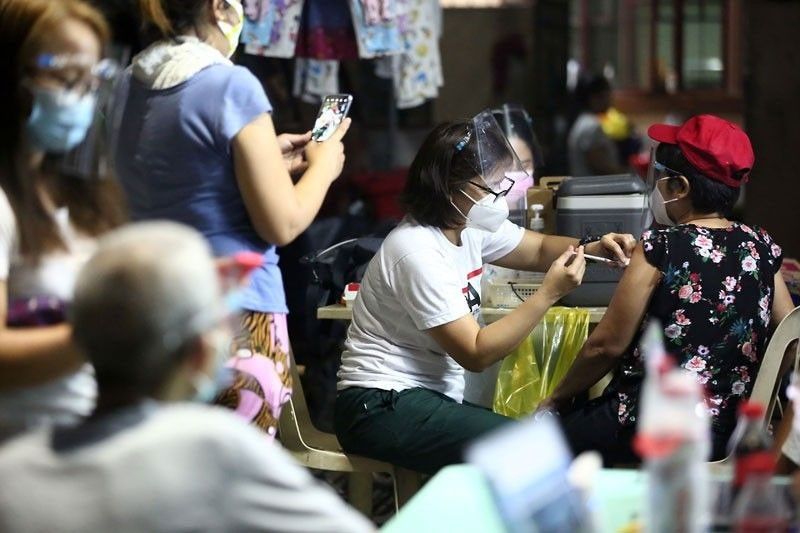 MANILA, Philippines — Health Secretary Francisco Duque III has appealed to local government units (LGUs) to ramp up the vaccination of those in the priority groups A2 (senior citizens) and A3 (persons with comorbidities) against COVID-19 to reduce hospital utilization in the country.
"Our vaccination of the A2 and A3 priority groups should still be enhanced in different regions to help us attain (population protection). This will give us the best effect in terms of preventing our health care system from getting overwhelmed and lowering deaths," Duque said in a recent meeting with President Duterte.
The health chief had said senior citizens comprised a majority of the severe and critical COVID-19 cases and deaths in the country.
The Philippine Hospitals Association of the Philippines Inc. (PHAPi) said over the weekend hospitals remain overwhelmed despite the drop in new COVID-19 cases.
Dr. Jose Rene de Grano, PHAPi president, said moderate, severe and critical cases have gone up from five percent to around 15 percent over the past month.
"So it means that the number of patients has not really gone down and even increased a little," he said.
OCTA Research on Saturday said the COVID-19 situation in Metro Manila continued to improve over the past week, with all 17 LGUs seeing a further decrease in average daily new cases.
The group said the region recorded an average of 1,048 new cases per day from Oct. 15 to 21, down 43 percent from 1,824 recorded in the preceding week, citing data from the Department of Health (DOH).
The reproduction number, which indicates the number of individuals a positive person can infect, further went down from 0.59 to 0.46.
The DOH logged 5,807 new COVID-19 cases on Saturday, bringing the country's caseload to 2,751,667, of which 63,051 are active.
Vaccine supply not a problem
The National Task Force against COVID-19 (NTF) said LGUs do not need to buy their own supply of COVID-19 vaccines, reiterating that the problem lies with hesitancy and not supply shortage.
Secretary Carlito Galvez Jr., NTF chief implementer and vaccine czar, said the country has been receiving an average of one million COVID-19 vaccines daily since the start of the month and that these were being delivered immediately to LGUs.
As of the weekend, the government has about 10 million doses in national warehouses that are waiting to be distributed, while about 40 million doses are due for administering.
"As I have been telling our LGUs over the past several weeks, vaccine supply is no longer a problem for our country. Our main concern at this point is how to get these COVID-19 jabs into the arms of as many Filipinos as quickly as possible," Galvez said in a statement.
Galvez issued the statement following Cagayan de Oro Rep. Rufus Rodriguez's statement that the government has been sitting on vaccine procurement application of LGUs.
"During the congressional hearings in September, I informed our honorable legislators that the national government could not push through with these MPAs (multi-party agreements) because we had to be prudent when entering into these kinds of transactions," Galvez said.
"And upon our review of those proposed agreements, we saw that there were questionable deals among them which would primarily benefit third party consolidators, and would put our LGUs in a highly disadvantageous position," he added.
Galvez underscored that it is the responsibility of the national government, through the NTF, to protect the interests of LGUs, especially since the money they will be using to procure the vaccines will be sourced from public funds.
What he has asked of LGUs is to take advantage of the steady arrival of larger vaccine shipments by scaling up vaccination in their respective areas.
"Our goal is for LGUs to inoculate 70 percent of their eligible population with at least one dose by November. We cannot scale up our national vaccination output if we just settle with our current jab rate," he said.
To date, the Philippines has received a total of 94,678,340 doses of COVID-19 vaccines since February.
Of these shipments, more than 58.7 million doses were procured by the government, 24.3 million doses were donations from the COVAX Facility, 7.9 million were purchased by LGUs and the private sector, and 3.6 million doses were donations from bilateral partners.
As of Saturday, only more than 25 million Filipinos have been fully vaccinated against COVID-19. – Neil Jayson Servallos
***
Credit belongs to : www.philstar.com