Jawo stamps mark PHLPost 75th anniversary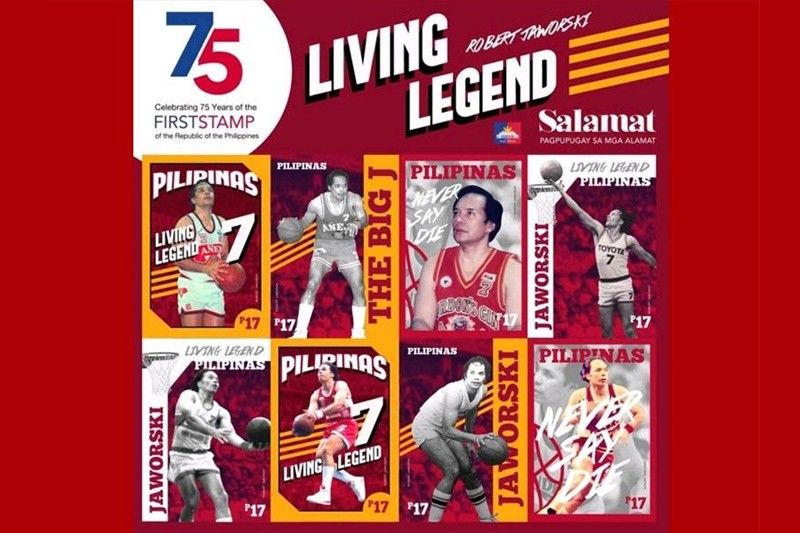 MANILA, Philippines — The Philippine Postal Corporation (PHLPost) unveiled yesterday stamps featuring basketball "living legend," former senator Robert Jaworski, as part of activities lined up for the 75th anniversary of the country's first stamp bearing the inauguration of the Philippine Republic released in 1946.
In his speech, PHLPost general manager and CEO Norman Fulgencio said that Jaworski's stamps will be part of a series of stamps they will release as a tribute to Filipino legends, both living and dead, who brought honor and pride to the Philippines here and abroad.
Fulgencio said they will officially launch stamps of Filipino heroes categorized as living legends; world renowned Filipinos who brought pride in the international arena; and the "never forgotten" heroes who have died, but were not given due recognition.
"Stamps are our window to the world, showcasing the rich history and culture of our country. Through recognizing our Filipino talents and achievements, we encourage more Filipinos to do their best and make a greater contribution in the improvement of the Philippine economy and the nation," Fulgencio said.
The PHLPost said that Jaworski's stamps will be made available this month, while those for world renowned Filipinos will be released on Nov. 10 and early next year for the release of the "Never Forgotten" heroes of the Philippines.
Executive Secretary Salvador Medialdea, who graced yesterday's unveiling ceremony, said he hopes that Jaworski's stamp will serve as a reminder not only of his greatness and his contributions to the Filipino people, but also of the hard work and dedication required in realizing one's dreams and aspirations.
"I am confident that the new and young Filipino athletes will look up to our living legends in the pursuit of their sports careers and the realizations of our dreams and aspirations," Medialdea said in his speech.
Jaworski was unable to attend the unveiling of his stamp yesterday at PHLPost's Manila Central Post Office Building at the Liwasang Bonifacio due to "some physical ailments that he is confronted with at this time," according to his son, former Pasig City Rep. Robert Jaworski Jr.
The younger Jaworski said they continue to ask the public to pray for the immediate recovery of his father.
He said his father is thankful to the PHLPost for the recognition it has given to him as he shared that he never expected to become one of the personalities to be honored with a stamp and to be considered as one of the legends of the Philippines.
"Never did I ever imagine that I will be put on the stamp of the Philippines… I do not have enough words to truly express my gratitude. You have made me feel a different sense of pride and accomplishment incomparable to any other," he said, reading his father's speech.
Also present during the unveiling ceremony were Philippine Basketball Association (PBA) Commissioner Wilfredo Marcial, Pagcor president and COO Alfredo Lim, Philippine Sports Commissioner Ramon Fernandez and the current players of team Ginebra.
***
Credit belongs to : www.philstar.com