Adobo, paksiw and Bicol Express get five-star treatment at Haliya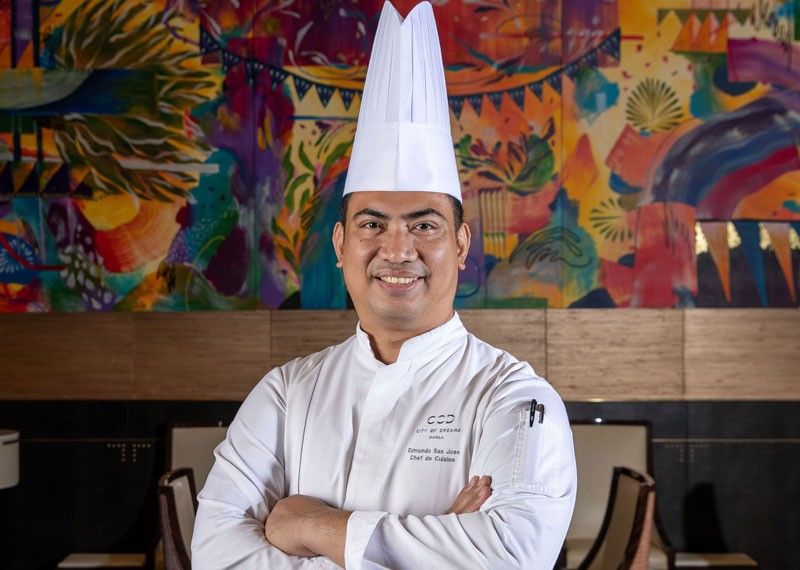 Filipino food is wonderful in so many ways. While some favorites are best left un-tampered with, some are versatile enough that they don't lose their soulful flavors even when a "Bicolano goddess" casts her magic spell on them.
Such is the case at Haliya, the newly opened Filipino restaurant at Nuwa Hotel, City of Dreams Manila. Named after the Bicolano Goddess of the Moon, Haliya gives a contemporary spin on Pinoy favorites that will open our taste buds to the many (delicious) possibilities of our cuisine.
Classic meets contemporary
At the helm of the kitchen is chef de cuisine Edmundo San Jose, who honed his 24-year culinary experience in banqueting and all-day dining restaurant operations in the Philippines and the Middle East.
At Haliya, chef Ed takes inspiration from the home-cooked fare he grew up with, enhances the basic flavors with the use of special ingredients, and "combines the traditional way of cooking with the creative techniques I've learned in my two decades of exposure to Asian and international cuisines."
The result? An amazing menu that truly befits kitchen gods and goddesses.
Using premium ingredients and the best local produce sourced fresh from different parts of the country, the menu also manifests City of Dreams' commitment towards sustainable dining experiences.
To help diners make better choices, icons on the menu identify dishes that are spicy, vegetarian, plant-based alternative, and sustainable seafood. Also, don't get intimated by the prices of each dish. Akin to the Filipino spirit of sharing meals, Haliya's dishes are good for sharing and are served family-style.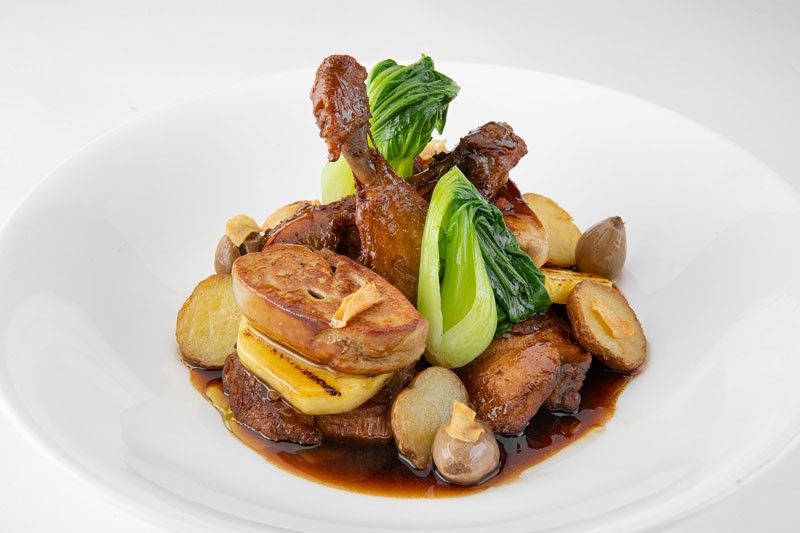 Haliya's twice-cooked adobo with foie gras
Chef Ed had me at Lumpia Dinagat (P980), his delicious take on lumpiang sariwa. The amiable chef veers away from the traditional egg wrapper and uses a bowl-shaped one to hold the freshest lobster and crabmeat dressed lightly with calamansi aioli. Topped with a paper-thin translucent malunggay chip, slivers of red chili and with aligue dip on the side, the dish does not only look good, but tastes heavenly as well. Just one bite and I was hooked.
This was followed by Binalot na Cochi (P500), shredded cochinillo and adobo flakes, atsara with pork liver salsa wrapped in fresh, crisp butter lettuce; Caticlan Talaba, fresh oysters with avocado adding a creamy layer of freshness; and Kilawing Tanigue (P650), tanigue, local sea urchin, fresh lato, cucumber, watercress, and siling labuyo, which definitely perks up the palate.
I had so much of the Lumpiang Dinagat that I was already full by the time the mains were served. Or so I thought.
How could I say no to the decadent and opulent Haliya Adobo (P1,250)? This twice-cooked chicken adobo is served with grilled pineapple, a shallot confit, marble potatoes and a rich adobo glaze that's packed with so much flavor. The best part? It's served with seared slabs of foie gras, adding a buttery richness to this Pinoy favorite.
Also not to be missed are chef Ed's gourmet Paksiw Apahap (P1,880), pan-seared local sea bass; and the black Angus Bistek Tagalog (P1,880).
Halika na sa Haliya!
Situated on the ground floor of Nuwa Manila, Haliya is named after the warrior goddess of the moonlight, who was considered one of the most beautiful deities in Bicolano mythology. Befitting its name, the 40-seater restaurant complements the refinement that the Forbes Five Star-rated hotel is known for.
Reflecting the richness of Philippine cuisine and culture, two large festive murals by Filipino muralist and painter Yana Ofrasio gives a festive ambience to Haliya's interiors.
The dining area provides a safe and comfortable place for families and the barkada to bond over good food and drinks.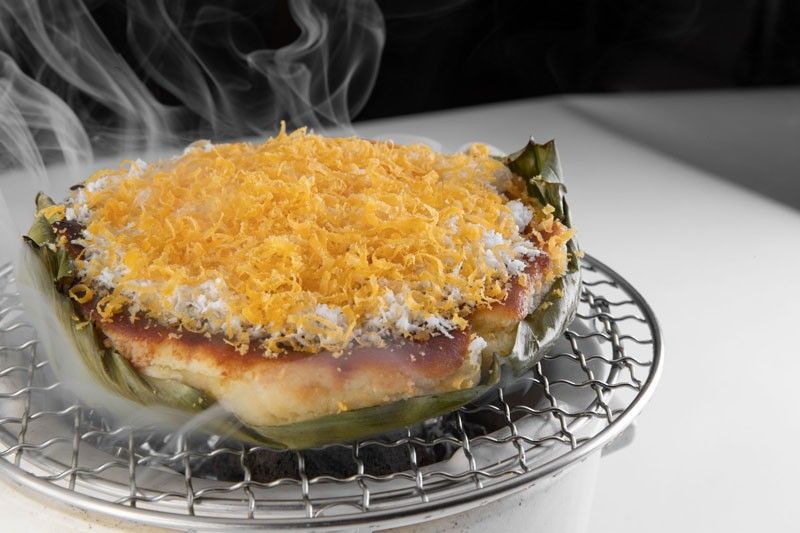 Chichingka, a bibingka-cheesecake hybrid topped with grated coconut and quezo de bola
At Haliya, diners get to enjoy classic Filipino dishes with a refined and contemporary twist that not only excite the palate, but the diners' imagination as well.
Kudos to chef Ed, whose fresh take on some of the most-loved Filipino dishes captures the hearts and palates of even foreign nationals who come over for a visit.
Seeing these diners who are unfamiliar with our cuisine sharing and enjoying a plate of Haliya's Chichingka, a bibingka-cheesecake hybrid, is a seal of approval that Filipino cuisine is, indeed, worth dining for.
* * *
Haliya is open daily for dinner from 5 p.m. to 11 p.m. Reservations are encouraged due to limited seating and restricted capacities for indoor dining.
For reservations, call 8800-8080 or email guestservices@cod-manila.com or visit www.cityofdreamsmanila.com.
***
Credit belongs to : www.philstar.com