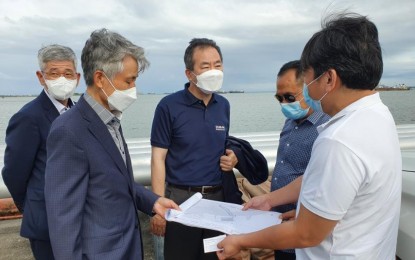 MANILA — Bidding for the civil works contract of the Korea-funded New Cebu International Container Port (NCICP) project is set to begin in January 2022, the Korean Embassy in Manila said Thursday.
"This project has been started formally. The bidding for selecting a construction company will be open next month," it said.
The project has a total estimated cost of PHP10.1 billion.
It aims to build a bridge, access road and harbor facilities on a 25-hectare reclaimed land in Consolacion, Cebu to free up the existing seaport in the province and make way for the unimpeded flow of goods and services in the Visayas.
The Korean government, through its loan aid agency KEXIM Bank, will extend the amount of USD172.6 million (approximately PHP8.6 billion) with a preferential interest rate of 0.15 percent per annum for non-consulting services and zero percent for consulting services.
The Philippines will provide a counterpart fund of USD26.09 million or about PHP1.4 billion.
The port's construction is scheduled to be completed in 2024, according to the Embassy.
It is expected to address congestion of cargo traffic at Cebu Port by increasing capacity for domestic cargo to 449,000 TEUs and 402,000 TEUs for foreign cargo in 2025.
In 2016, Cebu Port was only able to handle 424,000 TEUs for domestic and 386,000 TEUs for foreign cargo.
The Embassy said the project will also generate around 5,000 jobs for the construction stage alone.
"This year marks 30 years of Korea's development partnership with the Philippines. Through this partnership, Korea's ODA projects have contributed to upgrading infrastructure facilities in the Philippines," Korean Ambassador to the Philippines Kim Inchul said.
"Korea will remain committed to supporting the Philippine government's efforts to improve infrastructure and by doing so, ultimately achieving sustainable and inclusive economic growth," he added.
Inchul visited the potential NCICP site last December 2 together with Leonilo Miole, the general manager of the Cebu Port Authority. (PNA)
***
Credit belongs to : www.pna.gov.ph