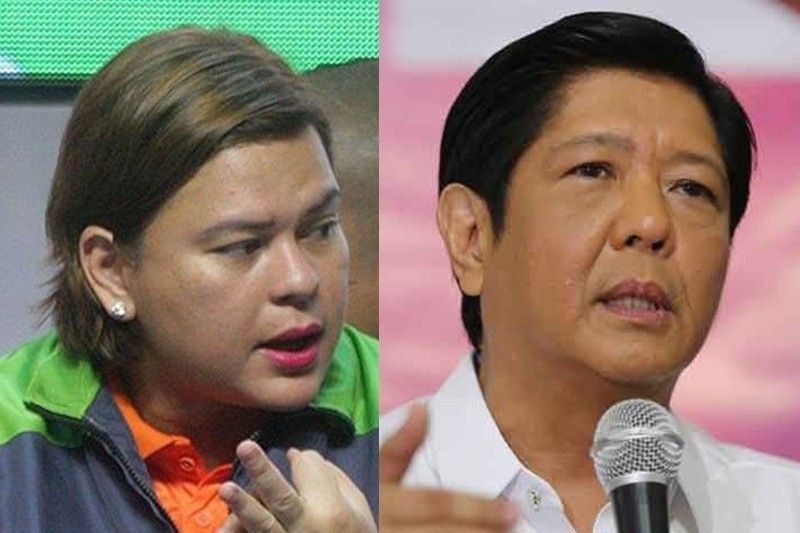 The Alyansang Guico-Lambino or AGuiLa team, led by Fifth District Rep. Ramon Guico III and Vice Gov. Mark Lambino, led their fellow candidates for various positions in next year's polls on their written pledge of commitment to the tandem of former senator Ferdinand Marcos Jr. and Sara Duterte-Carpio for president and vice president, respectively.
"On behalf of all the 44 incumbent and aspiring mayors and six incumbent and aspiring congressmen of the province of Pangasinan, particular to the team AGuiLa, as well as my fellow Hugpong Para kay Sara, for whom I am the Pangasinan chapter president, we hereby express our unequivocal support to you, for your candidacy and we will do everything in our province in our power to ensure an unequivocal victory in the coming elections," said Bayambang Mayor Cezar Quiambao.
Quiambao hosted the political gathering of Pangasinan leaders held at the Bayambang Event Center Saturday afternoon that lasted for more than five hours.
The endorsement from the AGuiLa, in alliance with the Pangasinan chapters of Hugpong ng Pagbabago, Partido Federal ng Pilipinas, Lakas-CMD, Nacionalista Party, Nationalist People's Coalition, Abono party-list, People's Reform Party and Pwersa ng Masang Pilipino, forged a grand alliance to support the BBM-Sara UniTeam in the province.
Guico and Lambino, who are running for governor and vice governor, respectively, noted that no other presidential aspirant has Marcos' and vice presidential aspirant Inday Sara's competence and experience.
"We all have common hopes, the hopes that we can provide a better life for fellow Filipinos and our families and pin our hopes on our next president, firm in the belief that he can deliver a bright and progressive future, not only for Pangasinenses but to all our fellow Filipinos," Guico said.
Guico is optimistic the Solid North vote will be vital to bringing Marcos-Duterte to Malacañang, saying it is "inherent." Marcos is from Ilocos Norte.
Also present during the event were First District Rep. Arnold Celeste, former congressmen Arthur Celeste and Mark Cojuangco, who are running for congressman in the first and second district, respectively, Abono party-list Rep. Conrad Estrella, and other local candidates in every town and city in Pangasinan under the AGuiLa team.
In a video message, Marcos said he and Duterte-Carpio are thankful to the AGuiLa team, especially to Mayor Quiambao and his wife Niña who is running for mayor, for spearheading the event, even as he expressed hope to visit Pangasinan soon to properly extend how grateful they are.
Marcos added that they are overwhelmed by the outpouring of support for their tandem.
No to 'drug addict' president
Meanwhile, former senator Antonio Trillanes IV said yesterday that Filipinos must not elect a president who is a "drug addict" and someone who lied about credentials.
Trillanes, seeking reelection under the slate of Vice President Leni Robredo and Sen. Francis Pangilinan, expressed support for Robredo's statement on the importance of staying healthy, especially for public officials.
"I totally agree with that. Aside from a medical exam for health, at the same time a drug test – not the one where you submit a sample, it has to be random and in public where it can be seen that they take a hair sample from you which will be used for the drug test," Trillanes said in Filipino during the weekly radio program of Robredo.
Sample submitted, he said, should be taken from the candidate, for the more comprehensive hair follicle drug test.
"We can't allow an addict as President of the Philippines. They will not be well. Their decisions will affect the lives of Filipinos. They have to be alert, and their minds must be sharp," he added.
President Duterte claimed on Nov. 18 that a candidate for president is using cocaine and has a "weak" character.
Duterte did not identify the candidate but claimed that the presidential aspirant comes from a wealthy family.
In October, the University of Oxford had waded into a row waged on social media over Marcos' education credentials, saying he did not complete his degree.
"You can't pretend to be a graduate. If they do that, nothing they do will be right. On a simple resume you are a graduate even though you are not a graduate – what is that? That means you are capable of fooling our citizens," Trillanes said. – Eva Visperas, Pia Lee-Brago
***
Credit belongs to : www.philstar.com