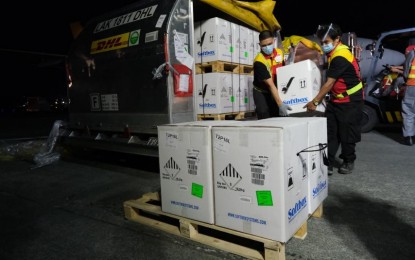 MANILA – Amid the upward trend in confirmed coronavirus disease 2019 cases in the Philippines, the national government on Thursday night received the last shipment of Covid-19 vaccines for the year — 609,570 doses of Pfizer.
The Pfizer vaccines, which arrived at the Ninoy Aquino International Airport (NAIA) Terminal 3 just before 9 p.m., complete the country's supply agreement for 40 million doses from the US drug maker.
Dr. Teodoro Herbosa, special medical adviser of the National Task Force (NTF) Against Covid-19, thanked the United States (US) government for their assistance in the delivery of the vaccines.
"We'd like to thank the US government for their assistance for the delivery of about 40 million doses of vaccines, which we had procured," he said in an interview with reporters.
Aside from the 40 million Pfizer doses procured by the government, Herbosa said the US has also donated more than 26 million doses of Pfizer to the Philippines.
"This last shipment, ladies and gentlemen, completes all the procurements of the Philippine government for the year 2021," he added.
To date, Herbosa said the Philippines has more than 210 million doses of vaccine.
Of this number, 138 million were procured by the government while the rest were donated by different countries to the Philippines through the COVAX Facility.
Michael William Leach, US Embassy consul, praised the Inter-Agency Task Force (IATF) for the Management of Emerging Infectious Diseases for its effort to procure Covid-19 vaccines.
"It's an honor to be a small part of the solution to this horrible pandemic here in the Philippines and to see the IATF and all the officials here handle it so well," he said.
Herbosa emphasized the need to boost the Philippines' vaccination drive after the country logged 1,623 new Covid-19 cases on Thursday — the highest single-day tally since November 21.
As of Thursday, the country has more than 2.8 million confirmed Covid-19 cases, more than 2.7 million recoveries, and 51,373 deaths.
"(It is) very important because our cases are rising. We are reminding people to get vaccinated, we are reminding people to get their booster doses," he said.
He also encouraged the public to continue adhering to minimum public health standards as the country welcomes the New Year.
"We do hope that people will be more careful as we greet the New Year and say goodbye to 2021 and meet 2022, please continue to observe minimum public health standards, wear the face mask, congregate with only vaccinated people. If you're going to hold a party on New Year's Eve, make sure it's outdoors like this and observe social distancing," he added. (PNA)
***
Credit belongs to : www.pna.gov.ph