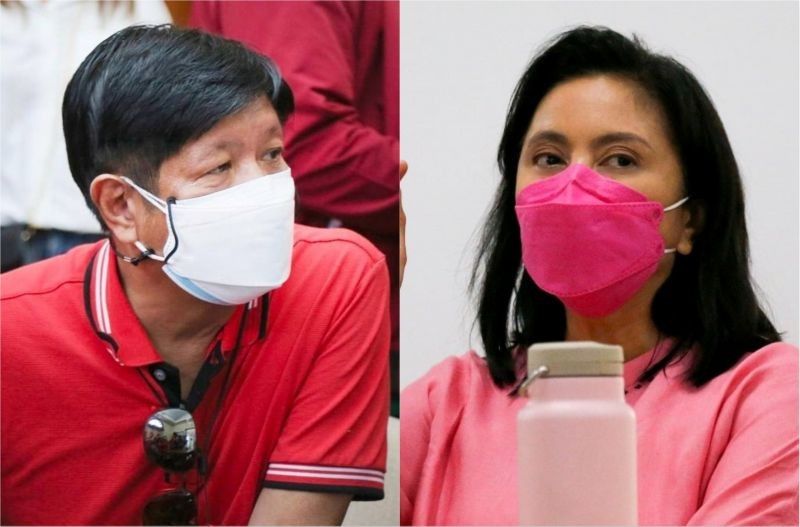 In the results of its survey conducted from December 6 to 11, the think tank found that the son and namesake of the late dictator was the top candidate for the presidency, with 53% of respondents saying they would vote for him if elections were held then.
On the other hand, Robredo's 20% of respondents was  a significant increase from the 8% in the previous Pulse Asia poll.
Coming in tied for third place with 8% voter support each were Manila City Mayor Isko Moreno and Sen. Manny Pacquiao. Sen. Panfilo Lacson took the sole fourth spot with 6% of respondents saying they would vote for him if elections were held during the survey period..
Retired general Antonio Parlade Jr. and labor leader Ka Leody de Guzman registered less than one percent of voter preference with 0.01% and 0.004%, respectively.
Unlike in the most recent update, the earlier survey results in September still included presidential daughter Sara Duterte-Carpio, Sen. Grace Poe, and former House Speaker Alan Peter Cayetano as possible candidates for president.
Surveys serve as a snapshot of public sentiment during the survey period. These can change over time but are useful guides for candidates and their campaign teams.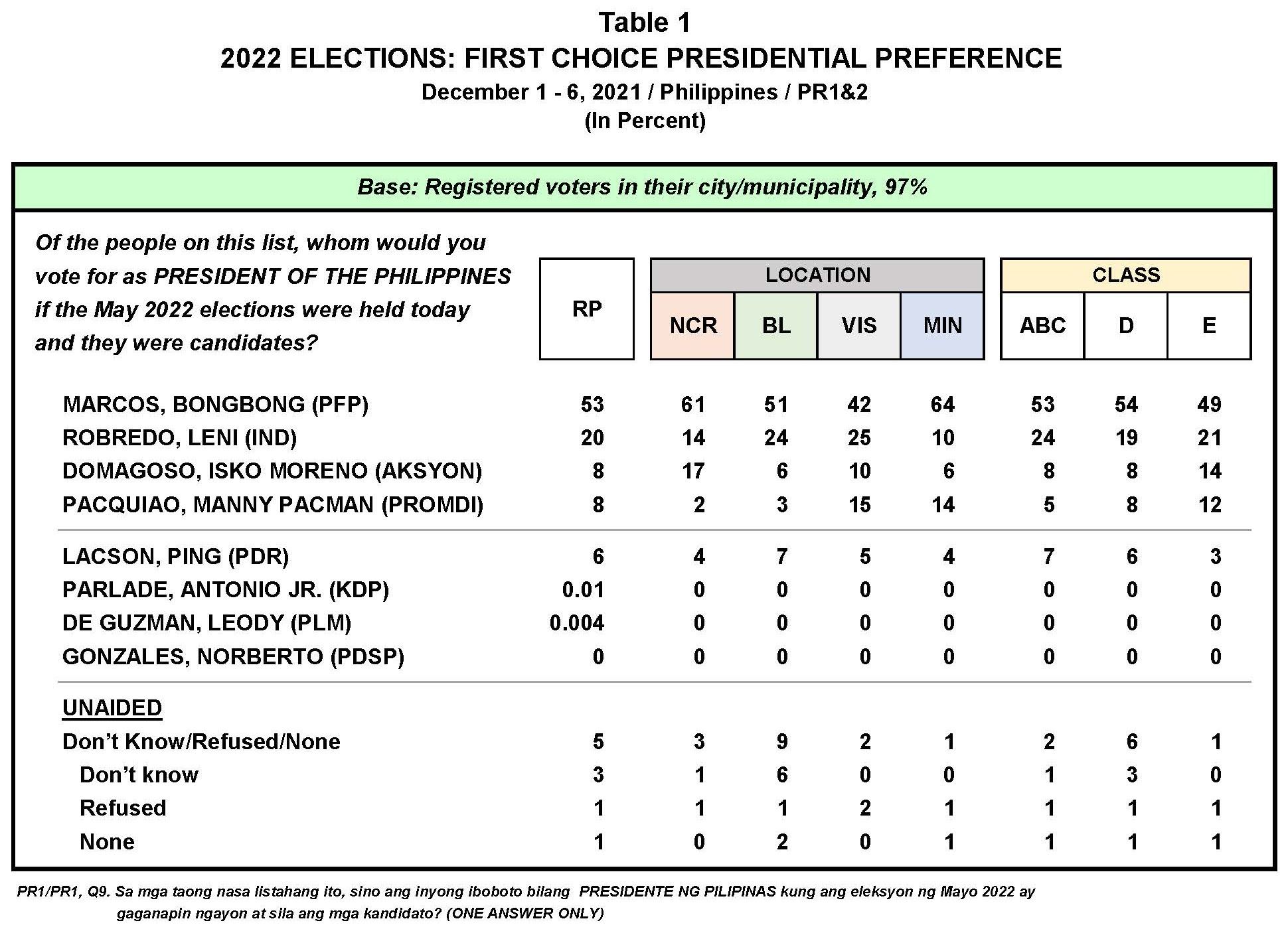 Marcos clear leader, but Robredo gaining momentum
Marcos' lead on his rivals was clear across all regions and all social classes. In both Metro Manila and Mindanao, he took more than half of voters with 61% and 64%, respectively.
With classes ABC, Marcos had 53% support versus Robredo's 24%. It was the same story with classes D and E, where he and Robredo were 54%-19% and 49%-21%, respectively.
This came despite the dominant headlines at the time the fieldwork for the survey was conducted: President Rodrigo Duterte's accusation that an unnamed presidential candidate was a cocaine user, and the petitions for disqualification against Marcos.
Despite being the clear runner-up, Robredo's percentages across NCR (14% from 10%), Balance Luzon (24% from 8%), Visayas (25% from 10%), and Mindanao (10% from 4%) went up since the last survey in September.
Across classes ABC (24% from 8%), D (19% from 8%), and E (21% from 11%), her popularity with voters also shot up significantly.
Moreno leads as 'alternative' candidate
In Metro Manila, Manila City Mayor Isko Moreno actually led Robredo 17%-14%. He was also close to her number among the poorest voters with 14% in Class E to Robredo's 21%.
"Should their original pick for president end up not pursuing his/her candidacy, 23% of those with a first choice for the post would instead vote for Manila Mayor Domagoso," Pulse Asia also said.
"Sharing 2nd place in terms of second-choice voting figures are Senator Lacson (17%) and Vice President Robredo (14%) while in 3rd place are Senator Pacquiao (11%) and former Senator Marcos (11%)."
For the survey, Pulse Asia conducted face-to-face interviews of 2,400 adult Filipinos and reported error margins of ± 2% for national percentages and ± 4% for subnational percentages.
"Pulse Asia Research's pool of academic fellows takes full responsibility for the design and conduct of the survey, as well as for analyses it makes based on the survey data," the pollster also wrote in its report.
"In keeping with our academic nature, no religious, political, economic, or partisan group influenced any of these processes. Pulse Asia Research undertakes Ulat ng Bayan surveys on its own without any party singularly commissioning the research effort." – Franco Luna
***
Credit belongs to : www.philstar.com