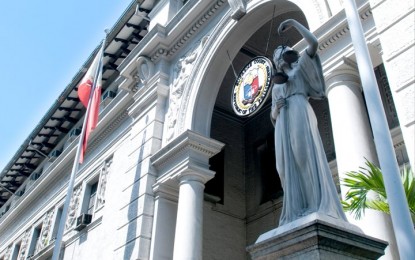 MANILA – The Supreme Court (SC) has extended the deadline of the submission of documents of Bar examinees until mid-February.
In a bulletin released Tuesday, the high court said "the deadline for submitting the physical, original copies of the pertinent documents for the Bar application process has been moved to February 15, 2022".
The original deadline for the documents, which include a verified petition to take the Bar, is on January 31.
"(W)e recognize that the recent Covid-19 surge and the crippling effects of Typhoon Odette have made it difficult for many examinees to comply with the deadline. Thus, it is moved to sometime after the Bar Examination," the SC said.
Th exam will be held on February 4 and 6, instead of the previous January 23 and 25, citing a high rate of infection among examinees and support personnel.
About 16.8 percent of the 8,546 examinees who responded to an e-mail are either positive for Covid-19, living with someone positive for the virus, or under quarantine as a direct contact and are at risk of not being able to take the examination if the original schedule were to push through.
The SC also extended the deadline to February 2 for examinees to take the required sample exams.
The sample exams are non-graded practice tests that simulate the experience of using Examplify, a secure exam delivery program, for the actual examinations.
The SC encourages applicants to take the sample exams multiple times to ensure that they are familiar with Examplify's features and functions.
"It will also confirm the compatibility of the applicants' laptops with Examplify. Answers to the Sample Exams will not be checked and have no bearing on the applicant's actual performance in the 2020/21 Bar Examinations. Only the download of the Sample Exams and upload of the answer will require an Internet connection," the SC said. (PNA)
*****
Credit belongs to : www.pna.gov.ph