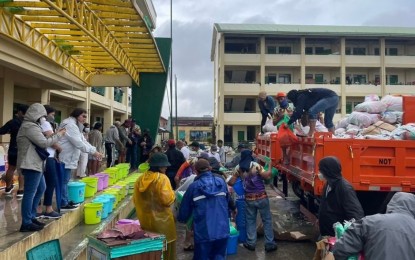 CAGAYAN DE ORO CITY – Government agencies and private organizations in the Northern Mindanao Region on Tuesday continued to conduct relief operations in communities affected by Typhoon Odette that hit parts of the Visayas and Mindanao last month.
In a Facebook post on Tuesday, the Department of Public Works and Highways in Northern Mindanao (DPWH-10), along with civic organizations, distributed relief packs to 1,145 families in Surigao City.
In a statement, the DPWH-10 received an instruction from Secretary Roger Mercado to extend immediate assistance to the survivors, which has now been dubbed as "Tabangan ta 'Kaw Surigao".
"The relief operations were coordinated with the Barangay Government Units (BGUs) which were greatly affected by the typhoon, particularly, Barangay Rizal and Barangay San Juan in Surigao City. They have lost homes, livelihoods, and other necessities," the statement said.
The agency has pooled its resources through various district engineering offices in Bukidnon and Lanao del Norte.
It also received donations from the District Engineers' League of the Philippines (DELP), Inc., and the Philippine Institute of Civil Engineers (PICE) – Iligan Bay Lanao del Norte Chapters.
Bags of rice
The National Food Authority (NFA-10) also shipped a total of 4,499 bags to NFA-7 to replenish the stocks there between December 28 and 30.
Each bag weighs 50 kilograms and came from Bukidnon, Misamis Occidental, and Lanao del Norte, three of the top "palay" (unhusked rice) procuring areas of NFA-10.
"The transfers were coursed through marine transport; 1,800 bags were shipped from the ports of the cities of Ozamiz and Iligan while 2,700 bags were dispatched from the port of Cagayan de Oro City," the statement added.
As of Tuesday, the remaining 1,600 bags are scheduled to be shipped as the NFA-10 committed to send a total of 6,100 bags to the typhoon-hit Central Visayas Region.
In this city, Acting Administrator Teodoro Sabuga-a Jr. and City Social Welfare and Development's executive overseer Michael Christopher Fabello thanked food and beverage giant, Nestle Philippines, represented by Human Resources specialist Christine Maybuena, for its more than PHP1 million worth of donation of goods intended for typhoon survivors. The goods included instant coffee, powdered milk, and powdered chocolate drink.
Proposed law
During his visit to this city last month, Senator Juan Miguel Zubiri said there was an urgent need for the two houses of Congress to pass legislation that will create the Department of Disaster Resilience (DDR).
Zubiri said he filed Senate Bill 1139 or the Department of Disaster Resilience Act in 2019 when Taal Volcano erupted.
Aside from SB 1139, Zubiri has also filed the National Mapping Act, to determine the country's high-risk areas and danger zones.
The lawmaker said he was dismayed that until now, both Senate and the House of Representatives have not acted on his proposed legislation.
With the DDR, Zubiri said response to calamities will be quicker as there will be a single government agency that will focus on response, rescue, and rehabilitation including the building of disaster-resilient infrastructure.
"We need a go-to department where you can call up one secretary and mobilize the response with haste," he said.
After going around Visayas and Mindanao to hand out sacks of rice and evacuation tents to displaced residents, Zubiri noted the slow-moving delivery of assistance due to protocols, especially in the release of fuel.
"In times of crisis, there should be no red tape, no unnecessary protocols. Stumbling blocks and bottlenecks should be removed during the time of catastrophe," he added.
Among the complaints that he received from local officials and residents were the alleged sluggish action of the Department of Public Works and Highways in road-clearing and the Department of Energy on the restoration of power.
To date, Zubiri has donated 2,000 sacks of rice and 1,200 pieces of evacuation tents to displaced residents in Iloilo, Bacolod, Cebu, Bohol, Agusan del Sur, and the cities of Butuan and this city. (PNA)
*****
Credit belongs to : www.pna.gov.ph