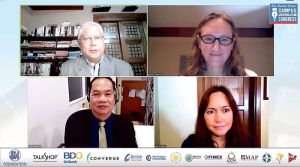 FOR ASPIRING JOURNALISTS (Clockwise from top left) Manila Times Chairman and CEO Dante "Klink" Ang 2nd, Agence France-Presse Manila Bureau Chief Allison Jackson, foreign correspondent Marga Ortigas and Manila Times Campus Press editor Carlito "Arlo" Custodio during the online forum "Journalism in time of pandemic and beyond: Presenting news and information responsibly," held on Friday, March 25, 2022. SCREENGRAB FROM FACEBOOK LIVE
TWO women journalists on Friday said news reporting is an exciting career, but it needs a lot of patience, courage and hard work.
Speaking during the Manila Times Campus Press forum, Australian Allison Jackson, Philippine bureau chief of the Agence France-Presse, said it is exciting to be in the news media, but one needs to have a lot of patience, courage and determination.
It can also be dangerous, Jackson said, recalling the times when she was assigned to cover conflicts such as the war in Afghanistan.
She also warned those who seek a financially rewarding career to stay out of journalism because there is no money in it.
Filipino journalist Marga Ortigas, former CNN London and Al Jazeera correspondent, said she started her career in journalism writing for her school paper when she was 12 years old.
That was the time when the Philippines was still under martial law, and it was a very confusing time for a young girl like her.
She recalled the time when she and the paper's staff were trying to piece together an article on the assassination of former senator Benigno "Ninoy" Aquino Jr.
They interviewed several people for the article. But when they submitted their story, the school authorities shut down the paper, saying it lacked a permit from the government.
Ortigas said it was the first time she experienced censorship.
But that didn't stop her from embracing journalism as a career.
Ortigas said every journalist has the power to publish or broadcast news "be it our own or something that we might be witnessing, but this does not necessarily mean that everybody wants to hear what we are going to say…and this does not also mean that you do not have to say anything at all."
She reminded aspiring journalists not to sensationalize a news story. Just state the facts and be a responsible journalist, she emphasized.
The Campus Press Forum is an online event of The Manila Times and The Manila Times College in cooperation with the SM Foundation and Body Talks and in special partnership with the BDO Unibank and Converge.
*****
Credit belongs to : www.manilatimes.net