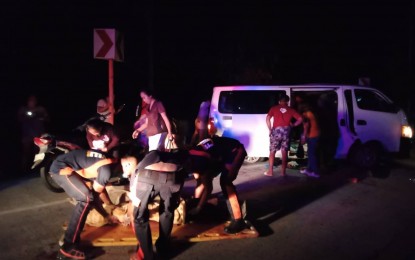 A report from the Negros Oriental Provincial Police Office on Saturday said the cargo truck, driven by Marcos Alberastinni, 40, of Guihulngan City, bumped the white van driven by Jony Gacang Larano, a 33-year-old resident of Bacolod City.
The van was then traveling northbound from the opposite direction with 25 passengers, mostly relatives.
Larano and 17 of his passengers were taken to the Governor William Billy Villegas Memorial Hospital in nearby Guihulngan City while eight others sustained minor injuries.
Three of the passengers died at the hospital — Erodetha Gacang, 67; Roel Gacang, 62; and Eliza Pontillano, 68.
The injured passengers who required treatment were Marilyn Gacang, 51; Dhylyn Gacang, 22; Dany Gacang, 50; Danilo Gacang Jr., 20; Anselma Pontillano, 67; Bienvenido Amacanin, 62; Elsa Amacanin, 49; Cherry Gacang, 25; Denber Gacang, 3; Juvel Pontillano, 16; Cherlyn Gacang, 12; Darylboy Gacang, 13; and Sandra Gacang, 5.
The police report said the cargo truck driver fled the scene but a hot pursuit operation resulted in his arrest.
He is now detained to face charges for reckless imprudence resulting in multiple homicide, multiple physical injuries, and damage to properties. (PNA)
*****
Credit belongs to : www.pna.gov.ph