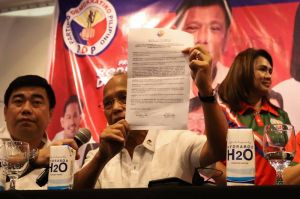 Proof of support Energy Secretary and PDP-Laban President Alfonso Cusi shows a copy of the party resolution endorsing the candidacy of Ferdinand 'Bongbong' Marcos Jr. on Tuesday, March 22, 2022. Photo by John Orven Verdote
PRESIDENT Rodrigo Duterte's party endorsed survey frontrunner Ferdinand "Bongbong" Marcos Jr. as its presidential candidate for this year's national elections.
The Partido Demokratiko Pilipino-Lakas ng Bayan (PDP-Laban), chaired by Duterte, adopted a resolution on Monday night to formalize its endorsement of Marcos.
The group said that Marcos is the candidate whose platform is most aligned with the party's 11-point agenda.
The PDP-Laban has adopted the 11-point Agenda for Continuity: fight corruption, eradication of poverty, advancement of peace and order, ending the pandemic, defeating communist terrorism, sustaining economic growth, generation of jobs, strengthening national defense and foreign relations, educational reforms, decentralization and local government empowerment, and Charter change and federalism.
"After careful and exhaustive deliberations, the National Executive Committee endorses the candidacy of Senator Ferdinand 'Bongbong' Marcos Jr. for President of the Republic of the Philippines in the forthcoming 2022 national elections," the PDP-Laban said.
"Senator Bongbong Marcos is the candidate whose platform is most aligned with the development program of President Rodrigo Duterte," it added.
The group added that Marcos "received the most endorsements from several local councils of PDP Laban [including from] Ilocos Sur, La Union, Bataan, Bulacan, Nueva Ecija, Zambales, Batangas, Laguna, Quezon, Rizal, Oriental Mindoro, Camarines Norte, Masbate, Aklan, Negros Occidental, Leyte, Southern Leyte, Zamboanga del Sur, Davao del Sur, North Cotabato, Caloocan City, Malabon City, Mandaluyong City, Pasay City, Parañaque City, San Juan City, Valenzuela City, Malolos City, Ormoc City and San Pedro City."
Marcos said the endorsement of the ruling party will "consolidate the forces of unity" less than two months before the May 9, 2022 polls.
The former senator, whose campaign has centered on unity, said he is "very grateful and happy" for the ruling party's move to endorse his Palace bid.
"Of course we're very, very grateful to receive this much-awaited and much hoped for news. At malaking pasasalamat namin sa lahat ng ating kaibigan na kasapi sa PDP-Laban sa kanilang ipinahayag na tiwala sa aming dalawa ni Inday Sara at sa buong UniTeam (Our huge thanks to our friends in PDP-Laban for trusting me and Inday Sara and the entire UniTeam)," Marcos said during a chance interview.
"Itong bagong development na ito ay (This new development), this will consolidate the forces of unity so that we can continue to work against those who would want to divide Filipinos against each other," he added. "That is our message, and that is our dream, that we bring the country together.
The standard-bearer of the Partido Federal ng Pilipinas said he looks forward to working with the PDP-Laban.
Sen. Aquilino "Koko" Pimentel 3rd on Tuesday slammed Energy Secretary Alfonso Cusi for endorsing Marcos.
Cusi leads a faction of the PDP-Laban while Pimentel and Sen. Emmanuel "Manny" Pacquiao head the other group.
"With this latest action from Sec[retary] Cusi and his cohorts, they have manifested that they are total strangers to PDP-Laban," Pimentel said in a text message.
"They don't even acknowledge that PDP-Laban was established to oppose the Marcos dictatorship," he stressed.
"[It's] time for Comelec (Commission on Elections) to dismiss the petition of these usurpers," Pimentel added.
He was referring to Cusi's September 2021 petition asking the Comelec to declare as "illegitimate" the Pacquiao-Pimentel PDP-Laban faction.
Pimentel's father, the late former Senate President Aquilino "Nene" Pimentel Jr. founded the PDP in 1982. It merged with Laban, then led by Sen. Benigno "Ninoy" Aquino Jr. in 1983.
Grateful
Marcos' running mate, Davao City Mayor Sara Duterte-Carpio, said she was "appreciative" of the ruling party's endorsement of Marcos.
She bared that a meeting was held over the weekend to tackle the endorsement.
"You have to ask Bongbong Marcos about that because I was not there in the meeting, so I do not know what was discussed, but I only knew of the agreement that PDP-Laban will endorse the presidency of BBM," Duterte-Carpio said in an ambush interview.
"Ako as running mate of Apo BBM is truly grateful to PDP-Laban for their endorsement to the candidacy of President Bongbong Marcos," she added.
Asked if this is already an endorsement of her father, the mayor said, "I cannot speak for the President; I do not know what he's thinking right now."
*****
Credit belongs to : www.manilatimes.net