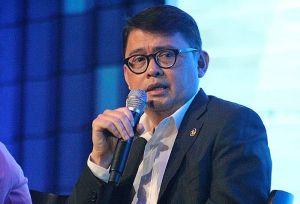 Jose Maria "Joey" Concepcion 3rd. File Photo
PRESIDENTIAL Adviser for Entrepreneurship Jose Maria "Joey" Concepcion 3rd has highlighted the role of women entrepreneurs in the country's push for post-Covid economic recovery.
Concepcion said women make up nearly 90 percent of micro and small enterprises in the country, so empowering them will be a big step as the country recovers from the pandemic.
"We need to inspire and motivate our women entrepreneurs," Concepcion said, as he welcomed women leaders and entrepreneurs to Go Negosyo's Women 2022 Entrepreneurship Summit on Thursday.
The event has nearly 15,000 participants, and more are expected to join once it is streamed live over the Facebook pages of Go Negosyo and its partners.
"The Women 2022 Entrepreneurship Summit is timely because we have seen in the past how women entrepreneurs can be such a driving force in powering our economy," Concepcion said.
"Many of them faced challenges during the pandemic, especially in recapitalizing their businesses. But they have shown much resilience," he added.
The Go Negosyo founder noted that while Filipina entrepreneurs were already active participants in e-commerce before the Covid-19 pandemic broke out, the crisis exposed gaps in their access to credit as well as their training in digital technology.
Concepcion expressed hope that through the Women's Summit, more Filipina entrepreneurs can be inspired by female mentors and leaders.
With the theme "Thriving in a Changed World: Women Leading the Way," the summit is made up of three events. The first is a virtual conference to discuss opportunities for women's economic empowerment, followed by the Inspiring Filipina Entrepreneurs Awards which will recognize the achievement of 17 women entrepreneurs, and capped by the Women Enterprise Enablers Virtual Expo, an exhibit of women-led businesses and partner organizations and a venue for linking partner institutions and women entrepreneurs.
Concepcion said rising commodity prices brought on by the Russian invasion of Ukraine have dampened consumer spending, while the continued fear of Covid is still slowing the return to normal activities.
He said small businesses are relying on the reopening of the economy to be able to repay the loans they took out during the past two years.
Government, he said, is also facing P12 trillion in national debt.
"It is hoped that with the reopening of the economy, the country will be able to mitigate the effects of the crises and be able to earn enough revenue to pay back its loans," Concepcion said.
*****
Credit belongs to : www.manilatimes.net