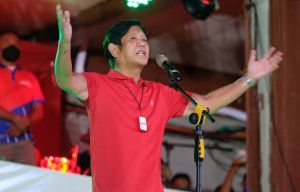 Former senator Ferdinand "Bongbong" Marcos Jr. Contributed Photo
THE camp of presidential candidate Ferdinand "Bongbong" Marcos Jr. has released the results of survey showing that women overwhelmingly prefer Marcos over his rival Vice President Maria Leonor "Leni" Robredo.
Marcos' campaign cited surveys conducted by Laylo Research in January and February.
In the January poll, Marcos tallied 62 percent preference votes from women as against Robredo's 19 percent.
In February, Marcos was preferred by 61 percent as against Robredo's 19 percent.
The Marcos camp said he also led in terms of demographics in February including local and economic class, gender and age groups as he scored 55 to 65 percent in all the categories.
"Marcos scored 63 percent in urban areas; 62 percent in rural; 54 percent in Class ABC; 66 percent in Class D; and 57 percent in Class E," the Marcos camp said.
It said the candidate was the choice of 65 percent of male voters; 66 percent of 18- to 34-year-olds; 66 percent of 35- to 54-year-olds; and 55 percent of 55+ years old group.
The Laylo survey also revealed that Robredo fared poorly among her region mates in Bicol.
In January, Marcos garnered 51 percent preference votes in Bicol Region as against Robredo's 33 percent.
In February, Marcos got 48 percent votes as opposed Leni's 32 percent.
Marcos also was the top choice in all other regions with huge voting populations like the National Capital Region with 61 percent, North/Central Luzon (80 percent), Visayas (53 percent), and Mindanao (71 percent), the survey showed.
"Overall, Marcos is way ahead in the Laylo Research survey last February after registering 63 percent preference rating against 17 percent of Robredo," the Marcos camp said.
Marcos and his running mate Sara Duterte-Carpio have been consistently leading the surveys since they filed their certificates of candidacy for the May elections.
The tandem has been dubbed as the UniTeam.
Duterte-Carpio will work harder to sustain if not widen her lead in the surveys, her campaign manager said on Thursday.
House Majority Leader Martin Romualdez, president of the Lakas Christian-Muslim Democrats (Lakas-CMD) which is chaired by Duterte-Carpio, made the statement after the Davao City mayor and daughter of President Rodrigo Duterte remained in the recent Tangere poll as the top choice with a 56.63-percent voter's preference.
Citing the survey, Romualdez said Duterte-Carpio has not only kept her lead but has even widened it.
In the Tangere survey, conducted from March 1 to 4 among 2,400 respondents through a mobile app, Duterte-Carpio gained 3 percent in voters' acceptance over the results of the same survey last month.
Duterte-Carpio had 56.63 percent, followed by Senate President Vicente Sotto 3rd with 16.08 percent and physician Willie Ong with 14.17 percent.
In fourth place was Sen. Francis Pangilinan (9.79 percent), while Buhay Rep. Lito Atienza was in fifth spot (1.25 percent).
The same survey results also showed Marcos, the standard bearer of Partido Federal ng Pilipinas, leading the presidential derby with 48.75 percent and followed by Manila Mayor Francisco "Isko Moreno" Domagoso with 22.67 percent
In third place was Robredo with 17.29 percent.
*****
Credit belongs to : www.manilatimes.net