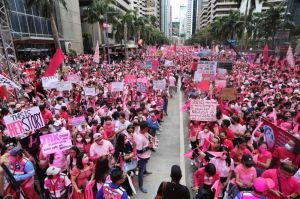 EMERALD AVENUE TURNS PINK Supporters of Vice President Maria Leonor 'Leni' Robredo fill Emerald Avenue in Ortigas, Pasig City as they wait for her arrival on Sunday, March 20, 2022, for the Pasiglaban Para sa Tropa People's Rally. CONTRIBUTED PHOTO
TWO experts warned on Saturday that the low vaccine booster shot coverage in the country could result in another surge of coronavirus disease 2019 (Covid-19) cases after the May 9 national elections.
"There is a possibility of a surge after the election. In fact, we are seeing some upticks, but we are still considered very low risk. Though we are not cascading this information, there is a possibility of increase in the number of cases due to waning immunity," OCTA Senior Research Fellow Dr. Guido David said in a media briefing.
The World Health Organization on Thursday raised the possibility of a resurgent outbreak, noting that as the virus continues to circulate, surges could occur, and with it the resulting increase in hospitalizations and deaths among the population.
David said upticks were already recorded in Central Luzon and Northern Mindanao though the numbers were too low to be of concern.
David added it was observed that the country experiences a surge every three months since the start of the pandemic, thus swelling of cases might happen again in April or May driven by lower immunity against variants including the Omicron strain and its recombinant relative Omicron XE.
"The waves were three to four months apart, so this supports the hypothesis that immunity [against Covid-19] wanes after a certain period of time," David said
He said there is still limited data on the transmissibility and virulence of the Omicron XE lineage, adding a second booster dose might offer some protection against the recombinant variant.
National Task Force Against Covid-19 Special Adviser Dr. Teodoro Herbosa agreed with David, stressing the importance of booster shots particularly this election season when superspreader events like rallies are common.
"That is the importance of the booster shot. That is why we tell people who think the risk is low that transmission will be fast when Omicron XE arrives. So, while we are still low risk, get your booster now to prevent hospitalization," Herbosa said.
After the May 9 polls, the government will hold a special vaccination day in the Bangsamoro Autonomous Region in Muslim Mindanao, the one area in the country with the lowest inoculation rate against Covid-19.
To date, only 12 million Filipinos have received their booster shots, which, according to Vaccine Expert Panel Chairman Dr. Nina Gloriani, is one of the lowest in Asia per 100 people.
But David said the high vaccination rate of nearly 66 million enabled the Philippines to survive Covid's onslaught.
"We are now the envy of our Asian neighbors because we are not seeing an increase in the number of cases. We are proud of that, and even if we committed some early lapses, we now have good pandemic management and we hope it continues in the next few years," he added.
*****
Credit belongs to : www.manilatimes.net