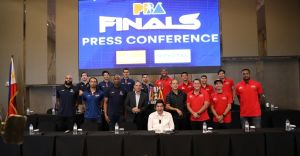 ALL SET FOR WAR The Meralco Bolts and the Barangay Ginebra Gin Kings pose with PBA commissioner Willie Marcial during the press conference for the Governors' Cup Finals on Tuesday, April 5, 2022, at Novotel, Araneta Center, Quezon City. PBA PHOTO
Game Today (Smart Araneta Coliseum) 6 p.m. Meralco vs Ginebra
HEALTH condition has always been a crucial factor for any team competing in a championship series.
For defending champion Barangay Ginebra Gin Kings, it's a situation they have to deal with when they take on the Meralco Bolts in the PBA Governors' Cup best-of-seven Finals.
Key Ginebra players Christian Standhardinger and Japeth Aguilar are dealing with health issues ahead of the championship series against a familiar finals rival.
Standhardinger missed the practice on Monday after being under the weather for the past few days and although head coach Tim Cone clarified that it's not Covid-19 related, the Gin Kings' premier center may not be 100-percent healthy when he suits up in the series opener today, April 6.
The Gin Kings open their title defense against a nemesis they had defeated three times in the last four Governors' Cup finals series. Game time is 6 p.m. at the Smart Araneta Coliseum in Quezon City.
"It's non-Covid. We've tested him," Cone said, referring to Standhardinger's illness. "He told me that he is in the hospital, but will figure out a way to play on Wednesday."
Also set to see action for the Gin Kings is Japeth Aguilar, who was sidelined by the calf injury he aggravated during their semifinals series against the NLEX Road Warriors.
Although Cone expects the 6-foot-9 forward to suit up in Game One, he remains a doubtful starter.
"We don't know when," Cone added when asked when Aguilar will play for the Gin Kings.
This will be a great opportunity for the Bolts to finally get back at their tormentors who defeated them in 2016, 2017 and 2019 Governors' Cup finals.
The Bolts are in a better position to win their first ever championship, and even though Allen Durham, the three-time Best Import, is no longer playing for the squad, the team believes Toby Bishop, a last-minute replacement import, is the right fit for the squad.
Bishop was brought in by Meralco a few days before the start of the Governors' Cup when original choice, Shabazz Muhammad, begged off from joining the squad due to family matters.
But Bishop had proven himself an efficient import even though he is not as dominant as his predecessor.
A former league scoring champion in Puerto Rico, Bishop averaged 25.5 points, 13.4 rebounds and 3.4 assists while staying in contention for the Best Import award.
But for head coach Norman Black, the best way to beat the Gin Kings is to bank on their solid defense, which has been a key factor in their semifinals duel with the Magnolia Hotshots.
"Our goal is really to win the championship," Black said during the press conference. "It doesn't matter how long the series will take or how many games, but we want to win the championship."
Like Cone, Black gives importance to health, which will be a key factor in the quest of the Bolts' first ever championship.
"More importantly, we just want to stay healthy," Black added. "We're coming off a very physical series against Magnolia and we're bracing for a long series against Ginebra. I just have to keep everybody healthy, keep them on the court and make them available every game."
Black stressed the importance of health even as the team listed ace guard Chris Banchero as day-to-day due to an upper body injury.
A late addition in the Bolts' lineup from free agency, Banchero averaged 11.7 points, 3.5 rebounds and 3.2 assists per game in the tournament.
*****
Credit belongs to : www.manilatimes.net