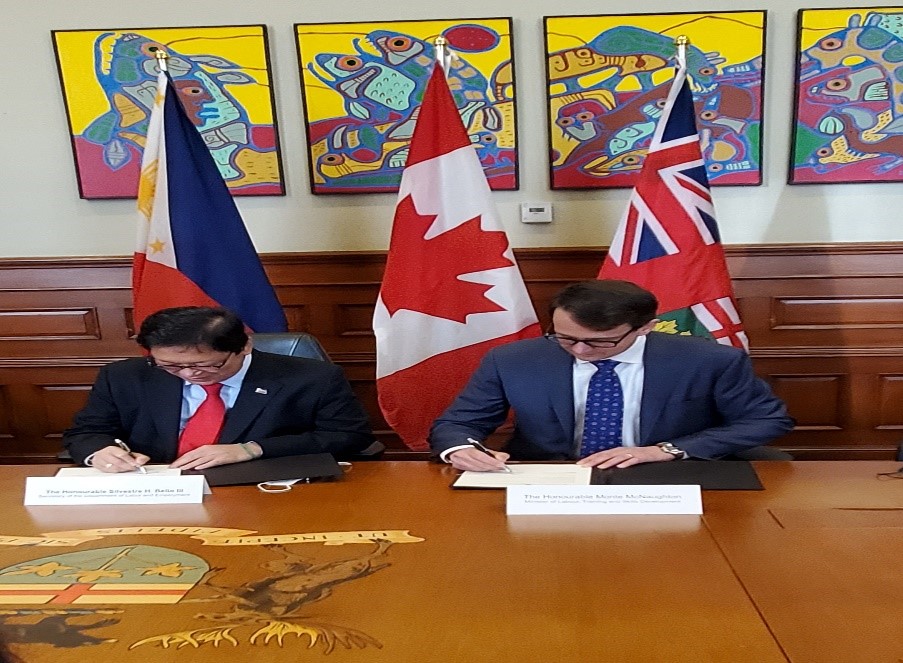 A Joint Communique was signed between the Philippines and the Province of Ontario signifying the intent of both sides to explore the possibility of entering into a Memorandum of Understanding (MOU) on labor cooperation. The Joint Communique was signed by Department of Labor and Employment Secretary Silvestre H. Bello III and Ontario Labor Minister Monte McNaughton at the Legislative Building in Queens Park, City of Toronto.
Prior to the signing of the Joint Communique, Secretary Bello and Minister McNaughton had a brief bilateral meeting during which they discussed matters of mutual concerns. A round table discussion followed the meeting which was attended by representatives from Filipino Canadian professional and business groups. In attendance were representatives from the nurses, personal support worker, engineers, accountants, architects, teachers and the Philippine Airlines (PAL).
Secretary Bello conveyed his appreciation for the opportunities provided by the Province of Ontario to Filipino workers. He expressed optimism that the MOU will be signed soon to further facilitate a mutually beneficial arrangement on the deployment and hiring of Filipino workers. For his part, Minister McNaughton conveyed appreciation for the contribution of Filipino workers on the development not just to the Province of Ontario, but the whole of Canada. He also expressed optimism on signing of an MOU soon noting that immigration is a key tool to strengthening economic development for the Province of Ontario.
During the roundtable discussion, representatives of the Filipino professional and business groups expressed appreciation for the Province of Ontario's programs which facilitates their integration into province's workforce, including the accreditation of their work experience and education. They also expressed their commitment to continue to contribute to the Province of Ontario.
Accompanying Secretary Bello during the meeting and signing of the Joint Communique were Ambassador Rodolfo Robles of the Philippine Embassy in Ottawa, Consul General Orontes V. Castro, Madame Regina Bello, Overseas Workers Welfare Administration Administrator Hans Leo J. Cacdac, Assistant Secretary Alice Q. Visperas, Consul Rodney Jonas L. Sumague and Labor Attaché Attorney Rachel Zozobrado-Nagayo.
Secretary Bello was in Toronto for a Command Conference with Philippine Labor Attaches and Welfare Officers based in the Americas, Europe, Asia and the Pacific. He also visited Filipino workers in Conestoga Meat (pork processor) and Linamar Corporation (autoparts manufacturer), both in the City of Guelph on 15 March 2022.