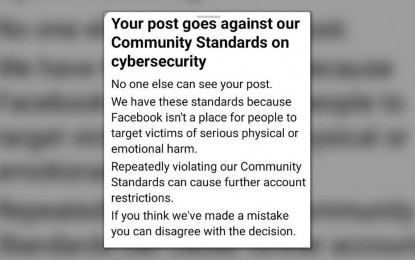 MANILA – Senator Ramon "Bong" Revilla Jr. on Tuesday asked Facebook Philippines for an explanation regarding the series of flagging and removal of posts and shared stories by government officials, various government media agencies, and ordinary netizens.
In his letter addressed to John Rubio, country director of Facebook Philippines, the chair of the Senate Committee on Public Information and Mass Media said his office recognizes mother company Meta's efforts against disinformation, cyberbullying, hate speech, terrorism, and other problems encountered in social media platforms but would welcome information and an explanation from the social media giant.
"I join the concern of the government agencies and mass media organizations about the effects of the abovementioned incidents in the performance of official functions and their implications in national security, sovereignty, and fundamental freedoms," Revilla wrote.
National Task Force to End Local Communist Armed Conflict spokesperson and Presidential Communications Undersecretary Lorraine Badoy on Sunday described the incident as "pathetic, desperate, and lutang (floating)".
The Philippine News Agency's (PNA) posts on Badoy's reaction, including a social media card, were taken down by Facebook but later restored.
Netizens also reported not being able to share the Badoy post, among others.
The National Press Club called the incident not only acts of harassment and intimidation and a brazen curtailment of civil liberties, particularly the right to freedom of information and expression, but more importantly, an assault on the country's sovereignty.
Partido Demokratiko Pilipino-Lakas ng Bayan president and Energy Secretary Alfonso Cusi said the Facebook incidents are part of efforts to discredit the accomplishments of the Duterte administration and maliciously influence voters' decisions ahead of the May 9 polls.
Since Saturday night, Facebook posts of government institutions, including the PNA, were flagged and blocked by Facebook, saying they violate "community standards".
Facebook has not offered an explanation, except that the flagging, removal and tagging of posts as spam were technical issues.
A post of National Security Adviser Hermogenes Esperon Jr. urging Filipinos to unite against communist insurgency was similarly flagged, prompting Department of the Interior and Local Government Undersecretary Jonathan Malaya to denounce Facebook.
"This move of FB is alarming, if not dangerous, as it has appointed itself as an omnipotent force that can censure at their discretion — based on standards that they themselves created — the legitimate posts of highly respected officials of the country," Malaya said in a statement.
The Facebook account of lawyer Vic Rodriguez, the spokesperson of presidential bet Ferdinand Marcos Jr., is also suspended for 30 days beginning April 25 due to supposed violations of community standards. (PNA)
*****
Credit belongs to : www.pna.gov.ph