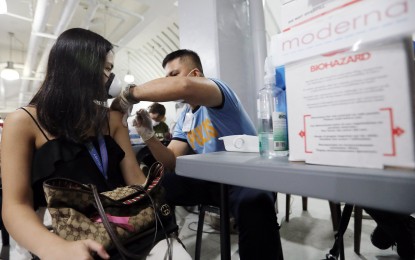 MANILA – A member of the Vaccine Experts Panel (VEP) on Monday said there is no data yet showing that the general public would benefit from the second booster dose of Covid-19 vaccine.
In a televised public briefing, Dr. Rontgene Solante, also an infectious disease expert, said a second booster shot of Covid-19 is an effective defense against Omicron subvariant BA.4 which is more transmissible compared to the other variants.
However, it is not recommended for the general public yet.
"For now, there's no data to tell us that the general public will benefit from a second booster that's why monitoring those vaccinated and also boosted is important," he said. "And if we have more cases of fully vaccinated already and with the first booster and yet getting the infection then there's more reason to believe a second booster is needed in order to maintain that wall of immunity for the general population."
Only the healthcare workers, immunocompromised and senior citizens are allowed to receive a second booster shot.
Over the weekend, the Department of Health (DOH) has detected Omicron subvariant BA.4 from a Filipino citizen who flew in from the Middle East last May 4.
The positive test result for the subvariant was from a specimen collected on May 8. He was asymptomatic.
Solante said it is early to implement border restrictions, citing that other countries, where cases of Omicron subvariants BA.4 and BA.5 are increasing, have not imposed such measures.
Monitoring the vulnerable population and encouraging those with symptoms to be tested for Covid-19 are the most important measures to be done, he said.
"So that we can intervene because of the treatment and I don't see a problem with the general population as long as we're wearing our face masks, we are following the health protocols," he added. (PNA)
*****
Credit belongs to : www.pna.gov.ph