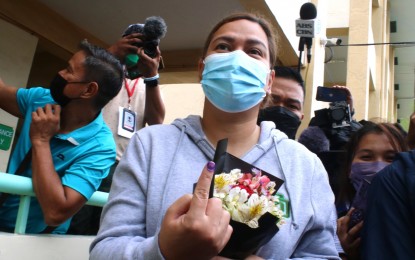 DAVAO CITY – If elected into office, Mayor Sara Z. Duterte vowed Monday to be a supportive and loyal vice president to whoever wins the presidency.
In an interview Monday, Duterte assured she will give her "all-out support" to the President—especially if her running mate Ferdinand Marcos Jr. wins the election.
Duterte said she will work hard for the country even if not given any cabinet position.
One area she will focus on, she said, would be peace-building and child protection activities, particularly in schools.
Meanwhile, when asked about President Rodrigo Roa Duterte's endorsement for his running mate, she said she and her father have not talked about politics for a long time.
"Of course, we have the right to choose who to support, especially the President. It is his right to endorse or not to endorse," the mayor said outside the Daniel R. Aguinaldo National High School here where she cast her vote.
Still, she thanked his father for supporting her candidacy.
Duterte also thanked UniTeam's supporters and volunteers, saying their efforts have contributed to the peaceful and orderly elections.
"Whoever wins, let us accept it, but we have to make sure that the votes are counted correctly," she said. (PNA)
*****
Credit belongs to : www.pna.gov.ph