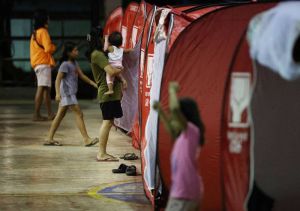 In this photo taken on July 27, 2022, residents gather at a temporary shelter set up on a basketball court in Bangued, in the province of Abra after a 7.0-magnitude earthquake hit the northern Philippines. STR / AFP
THE Department of Labor and Employment (DoLE) has released an initial P50 million to provide emergency employment to people displaced by the magnitude 7.0 earthquake that hit the province of Abra on Wednesday.
"In particular, we are rolling out the Tulong Panghanapbuhay sa Ating Disadvantaged/Displaced Workers (Tupad) program for the quake victims," said Labor Secretary Bienvenido Laguesma.
Tupad is an emergency employment program aiming to mitigate the adverse economic effect of natural disasters like earthquakes and health emergencies, among others.
Most affected by the earthquake were Region 1 (Ilocos) and the Cordillera Administrative Region (CAR).
Laguesma said the DoLE is also eyeing to provide jobs to quake survivors who lost their jobs through the Public Employment Services Office.
"The activity will include referral, placement, and the conduct of special risk allowance and job fairs in the region," he added.
The DoLE has deployed 800 emergency workers to screen applicants in affected areas.
"They started working July 28 to provide help to affected communities," Leguesma said, adding that a total of P4,666,400 was allotted for the program.
Extensive damage
Damage to public infrastructures in Region 1 and the CAR was estimated at P596.7 million based on the rapid assessment conducted by the Department of Public Works and Highways (DPWH) on 1,350 structures.
DPWH Secretary Manuel Bonoan said the CAR topped the list with P474.1 million followed by the Ilocos Region with P119.5 million and Region 2 (Cagayan Valley) with P3.1 million.
The DPWH Bureau of Maintenance reported that of the 1,350 inspected structures, 621 were national bridges, 23 were government hospitals, 275 were public school buildings, 417 were public buildings, and 18 were miscellaneous structures.
Building officials and city/municipal engineers were also ordered to conduct their own assessments on both public and private buildings.
DPWH quick response teams were still clearing debris from three national roads closed to traffic as of 8 a.m., July 30, namely Baguio-Bontoc Road K0347+090-K0347+180 section Mount Data Cliff, Bauko, Mountain Province; Mountain Province Boundary-Calanan-Pinukpuk-Abbut Road, K0428+000, Basao, Tinglayan, Kalinga; and Tagudin-Cervantes Road K0353+100, K0353+500 sections in Ilocos.
Road sections passable to light vehicles were Tagudin-Cervantes Road, Itogon Bridge, K0267+519, Benguet; Abra-Ilocos Norte Road, K0411+234-K0412+081, Calaba Bridge, Calaba, Bangued, Abra; Rosario-Pugo Road, San Luis Bridge 2, K0220+759 in La Union; and the Dagupan-Bonuan-San Fabian-Road K0380+058-K0380+182, Dawel Bridge in Pangasinan.
Thousands affected
The latest report from National Disaster Risk Reduction and Management Council (NDRRMC) said that the number of casualties of the July 27 earthquake was now at 10 while 62, 024 families or 228, 238 individuals from 639 villages in three regions have been displaced.
NDRRMC spokesman Mark Timbal said the four individuals earlier reported missing were already found dead, increasing the death to 10.
"They were found buried in a landslide area in Sitio Bangel, Barangay Poblacion Luba, Abra at 4 p.m., Friday, July 29," Timbal said.
Some 320 individuals were injured and have undergone medical treatment, the NDRMMC added.
A total of 48 cities and municipalities experienced power outages, of which 46 got their power supply restored.
Four cities and municipalities experienced water supply interruption, but supply was soon restored in all three but one.
A state of calamity was declared over 27 cities and municipalities in the affected regions.
The Armed Forces of the Philippines' humanitarian operation was ongoing in Ilocos Sur and Abra.
The Philippine Institute of Volcanology and Seismology (Phivolcs) said aftershocks in affected areas were still expected.
As of July 30, 2 p.m., the Phivlolcs recorded 1,433 aftershocks with magnitude ranging from 1.4 – 5.0.
*****
Credit belongs to : www.manilatimes.net