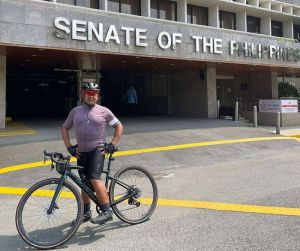 From home to office Sen. JV Ejercito arrives at the Senate on Tuesday, July 26, 2022. Contributed photo
SEN. Joseph Victor "JV" Ejercito biked to work on Tuesday to promote "healthy and economical" modes of transportation.
The senator shared on Twitter a photo of himself and his bike in front of the Senate building in Pasay City as he pitched for alternative transportation and cyclist safety.
When asked where his starting point was and how long it took for him to reach the Senate, Ejercito said, "I stay in Greenhills in San Juan [City]. Bike time is around 1 hour."
"Biking gives me an honest-to-goodness observation of what happens on the road," he said in an interview with The Manila Times in a text message.
"I usually bike everyday, more often do loops at MOA (Mall of Asia). So, it would be good that I am able to work out then go straight to the Senate after," the senator added. "[I am] [j]ust waiting for my office renovation to be completed so I can shower and change in my office."
He recently filed Senate Bill (SB) 393 which seeks to establish a network of "pop-up" bicycle lanes and emergency pathways to promote safe alternative mobility.
"This legislation is one way to help unburden commuters who are choosing to ride their bicycles and other non-motorized vehicles in order to escape the worsening traffic and save money on fares and fuel, most especially now that prices of petroleum products have skyrocketed," SB 393 states.
Ejercito said more Filipinos have turned to biking as "commuting has become more difficult" because of lack of efficient public transportation and worsening traffic in Metro Manila and nearby provinces.
Even with the relaxation of community quarantine, he noted "many have traded public transportation by riding their bicycles and scooters."
Under the bill, the Department of Transportation and the Department of Public Works and Highways, with the help of the local government units, will be responsible for the creation and maintenance of bicycle lanes.
On the other hand, "bicycle and all other non-motorized vehicle riders are required to follow traffic rules and laws to promote the safety of everyone on the road," Ejercito said.
*****
Credit belongs to : www.manilatimes.net