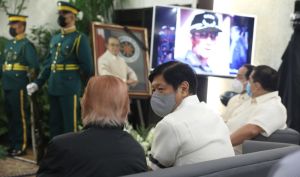 President Ferdinand 'Bongbong' Marcos Jr. talks to Amelita Ramos during the wake of former president Fidel V. Ramos on Thursday, Aug. 4, 2022, at the Heritage Park in Taguig City. PNA PHOTO
PRESIDENT Ferdinand "Bongbong" Marcos Jr. on Thursday paid his last respects to late president Fidel V. Ramos, describing him as a "symbol of stability."
Accompanied by some members of his Cabinet, Marcos Jr. condoled with the family of Ramos during his visit at the Heritage Memorial Park in Taguig City.
"I just came to offer my condolences to the family, through the former president's wife. You also must remember that we are related with FVR and so it is also a family event, the loss of FVR," Marcos said in a brief statement after his visit.
Ramos was the second cousin of Marcos Jr.'s father, former president Ferdinand Marcos Sr.
Marcos Jr. said he talked with Ramos' wife, Amelita. "I just reminded Mrs. Ramos of how FVR, when he became President, was a symbol of stability after all the tumultuous events of 1986. When he came into the presidency, he brought calm and he brought stability to our country," he said.
"And for that, we will always be grateful to him and for all his service all throughout his life — as a soldier and as a public servant," he added.
The President has declared July 31 to Aug. 9, 2022, as a period of national mourning for Ramos, who passed away last Sunday at the age of 94.
On Wednesday, Press Secretary Rose Beatrix "Trixie" Cruz-Angeles said the late president will be accorded a state funeral with full military honors on August 9, and will be interred at the Libingan ng mga Bayani.
"The state funeral is a right of the family of a deceased president, so yes he will be accorded a state funeral with full military honors," Cruz-Angeles said.
The Libingan is the final resting place of Medal of Valor awardees; presidents, secretaries of national defense, chiefs of staff of the Armed Forces of the Philippines (AFP), active and retired military personnel of the AFP who died in the line of duty; veterans of Philippine Revolution, World War 1, World War 2 and recognized guerrillas, government dignitaries and statesmen, and national artists and scientists.
Ramos was the country's 12th president, serving from 1992 to 1998. He has been credited for turning the country into a "tiger cub economy."
He also served as the chief of the Philippine Constabulary from 1972 to 1986, chief of staff of the Armed Forces of the Philippines from 1986 to 1988, and Defense secretary from 1988 to 1991.
He was named as Military Hero of the Peaceful People Revolution for his role in returning democracy to the Philippines.
Ramos briefly served as a special envoy to China during the first year of the Duterte administration in 2016.
Popularly known as "FVR," he was born in Lingayen, Pangasinan, on March 18, 1928.
*****
Credit belongs to : www.manilatimes.net