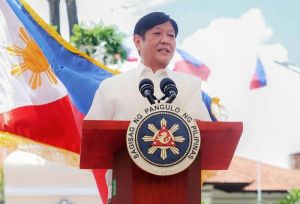 PRESIDENT Ferdinand "Bongbong" Marcos Jr. Contributed Photo
PRESIDENT Ferdinand "Bongbong" Marcos Jr. will discuss climate change, the rule of law and food security when he addresses the 77th United Nations General Assembly in New York City next week.
Marcos, who will fly to the US on Sunday, will speak before the General Assembly at 3:15 p.m. New York time (3:15 a.m. in Manila) on September 20, Foreign Affairs Assistant Secretary Kira Azucena said during a pre-departure briefing Thursday.
Azucena said the theme for this year's General Assembly meeting is "Watershed Moment: Transformative Solutions to Interlocking Challenges."
"We can expect the President's statement to identify these challenges and the solutions to address them, the role of the United Nations, and how the Philippines intends to contribute to these efforts," she said.
"The President's statement will also articulate his administration's priorities which include climate change, the rule of law, and food security," she added.
A possible meeting with US President Joe Biden is being finalized, with the Department of Foreign Affairs (DFA) saying they are "in consultation" with the White House and the US National Security Agency on the matter.
Philippine Ambassador to the US Jose Manuel Romualdez "is personally dealing with the matter," Foreign Affairs Assistant Secretary for American Affairs Jose Victor Chan-Gonzaga said during the same briefing.
Azucena said about 152 heads of state and officials are expected to attend the general debate, and Marcos is expected to meet some of them as well as other US officials.
She said the US trip is important since it marks Marcos' first engagement with the UN.
Azucena added that this year's General Assembly is "significant" since it will be the first one to be held completely in person since the pandemic started in 2020.
Former president Rodrigo Duterte attended the UN event in 2020 and 2021 virtually, through pre-recorded videos.
Asked if President Marcos will discuss a 2016 UN ruling that favored Manila's diplomatic protest against Beijing's sweeping claims in the South China Sea, Azucena said the final speech of the President still has yet to be vetted.
In the draft statement prepared by the DFA for Marcos, there is a "very strong diction" on the rule of law, and the rule of the United Nations Convention on the Law of the Sea (Unclos), she said.
"Beyond that, I cannot offer any further comments," Azucena said.
Press Secretary Rose Beatrix "Trixie" Cruz-Angeles said the President will leave for New York on September 18 and return to the Philippines on September 24.
The official delegation for the US trip includes the heads of the DFA, Department of Trade and Industry, Department of Finance, National Economic and Development Authority, and Department of Migrant Workers.
*****
Credit belongs to : www.manilatimes.net