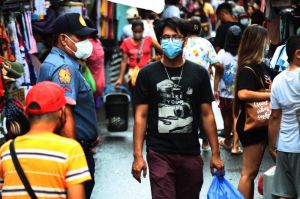 People shop in Divisoria in Manila on Saturday, Sept. 10, 2022. FILE PHOTO BY MIKE ALQUINTO
THE seven-day Covid-19 positivity rate in the National Capital Region (NCR) or Metro Manila rose by 1.2 percent increase — from 12.1 percent on September 2 to 13.3 percent on September 9, OCTA Research reported Sunday.
This increase was gleaned after an average of 10,247 daily RT-PCR tests were made over the past week.
The World Health Organization (WHO) sets a 5-percent positivity benchmark for declaring that Covid in a particular area is under control.
OCTA also noted that the reproduction number, referring to the number of new cases caused by one infected individual, also rose from 0.93 on August 31 to 1.11 on September 7.
"The reproduction number has increased to greater than 1, which means [Covid-19] infections are increasing," OCTA Research fellow Dr. Guido David said in a tweet on Sunday.
David said the slow uptick in cases was not unexpected since more people are on the move after some Covid restrictions were eased.
He advised the elderly and those with comorbidities to take extra precautions to avoid infection.
OCTA also said that the Covid-19 growth rate in the NCR increased to 6 percent from September 3 to 10, compared to the -17 percent from August 27 to September 3.
The average daily attack rate (ADAR) was also slightly up to 5.58 per day per 100,000 population, still considered low by the group.
Hospital bed and intensive care unit (ICU) occupancy for Covid-19 patients remained low at 34.5 and 28.9 percent, respectively.
Last Friday, Department of Health (DoH) Officer in Charge Maria Rosario Vergeire reported that ICU and severe and critical admissions for Covid-19 that were trending down over the past weeks were showing signs of leveling.
Vergeire said cases in Mindanao have reached a plateau, while the remaining areas were on a slow downward trend.
The DoH also reported that more than 72.7 million Filipinos have been fully vaccinated against Covid-19 as of September 8, but only 18.4 million have had their first booster dose and 2.4 million their second booster shot.
The DoH has stepped up its campaign to increase booster coverage among eligible individuals by setting up more than 19,000 vaccination sites nationwide.
It said 2.4 million of the campaign's 23 million targeted individuals were provided with first boosters, and 27,907 senior citizens of the 1.07 million target were vaccinated.
The department continued to remind the public to observe minimum health and safety standards to stay protected against Covid-19.
*****
Credit belongs to : www.manilatimes.net