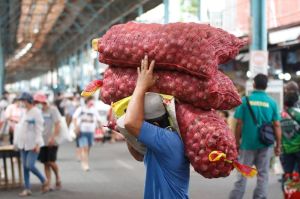 Workers unload sacks of Red onions as they delivered it to stores inside the Marikina public market on August 20 2022. Photos by John Orven Verdote
AN onion farmers' group said that the traders buy red onions at a farm gate price of P30 per kilo but the retail price of the bulb reached as high as P250 per kilo in the local markets.
In a radio interview, Makabaklay Farmers Association Chairman Rodante Dionisio said that the red onions are in the hands of traders.
"We harvest onions from February to March and traders bought our produce at P30 per kilo. We don't have cold storage facilities, that's why we need to sell them immediately," Dionisio said.
Red onions can be stored for at least seven months in cold storage facilities.
"We only sell a sack of onions at P1,000 but based on our reports, the price of a sack of onion is already being sold from the cold storage at P3,500 per 20 kilos," he added.
Dionisio said that there is enough supply of red onions in the country despite the increase in the retail prices.
"Aside from Nueva Ecija, many areas in the country plant red onions like Mindoro and Pangasinan," he said.
"We will start planting in October until December. By February to March, we will start harvesting," Dionisio noted.
He expects that the farm gate price of red onions will remain at P30 per kilo during the next harvest season.
Based on the daily monitoring of the Department of Agriculture (DA) on Thursday, the retail price of red onions ranged from P180 to P250 per kilo.
At the same time, Dionisio said that the farm gate price of tomatoes in Nueva Ecija range from P55 to P80 per kilo as the retail price of the farm commodity also increased in the wet markets.
Based on the DA's price monitoring, the retail price of tomatoes ranged from P100 to P160 per kilo.
The farm gate price of string beans is pegged between P80 to P100 per 100 sticks or more than two kilos.
The retail price of string beans in Metro Manila markets ranges from P100 to P140 per kilo.
Earlier, Agriculture Undersecretary Kristine Evangelista said the agriculture products in the wet markets in Metro Manila are overpriced by at least P20 per kilo.
Dionisio also confirmed that the farm gate price of palay (unhusked rice) in Nueva Ecija dropped to P13 per kilo.
"Many of the palay plantations in Nueva Ecija were affected by the recent Super Typhoon 'Karding.' The buying price of palay is only P13 per kilo," he added.
He called on the government to address the plight of the farmers
*****
Credit belongs to : www.manilatimes.net