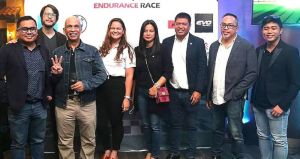 A FESTIVAL OF BRANDS Shown in photo are (from left) Archie Garcia and Karen Kennedy of BMW Motorrad; Manu Sandejas of KTM; Bobby Orbe of Wheeltek; Joy and Toti Alberto of Ducati; and Mike Bondoc and Nicco Antonio of Aprilla. The event is also backed by Angkas, represented by Jon Corpuz, MerryMart (Ferdie Sia), Pirelli (Philip Ang), EVO Helmets (Jhek Ripay) and JuanLife (Joyce Bautista). CONTRIBUTED PHOTO
REGISTRATION for the Army Navy Club200 200/50 Endurance Race — the Philippines' biggest motorsports spectacle in 2023 — is now in full swing.
Each team in the novel motorcycle event, the first of its kind in the Philippines, will be composed of three riders sharing one transponder and riding duties in 50 adrenaline-pumping laps of approximately 200 kilometers.
It blasts off at the Clark International Speedway on Feb. 23, 2023, with a practice run slated on Dec. 11, 2022, in order to allow participants to familiarize themselves with the rules and how the endurance race will play out.
The organizing Club 200 is planning to exclude competitive racers currently riding in the National Superbike Series to level the playing field among regular everyday riders and weekend enthusiasts.
"This means it's a free-for-all out there," said Bobby Unson, president of the Club 200.
Event is limited to 50 teams per race in order to avail of the Dec. 11, 2022 Free Trackday for Demo and Tips in the endurance race presented by SMAC BMW, Pirelli, KTM, Ducati, Angkas, Evo Helmets, APRILIA, Juan Life, Hotel 101 and Merry Mart, and powered by Wheeltek, Triumph, Harley Davidson of Manila and Motoworld, with Manila Bulletin and C! Magazine as media partners.
Interested riders can just do the following steps in order to register.
Step 1: Pay the entry fee (Individual P7,500/Team P21,000) at the Club200 Riders Association Inc.'s Unionbank, Magallanes Paseo Branch's Account No. 001470007566.
Step 2: Send a message to the event's Facebook page (Army Navy Club 200 Endurance Relay Race) https://www.facebook.com/profile.php?id=100084886190715 the copy of proof of payment (screen shot or photo of deposit slip).
STEP 3: Once organizer receives a copy of proof of payment, it will send participant an Online Registration Form. Fill up the form, send back and receive confirmation.
Step 4: Finally, DM your photo with white background.
Morning schedule during raceday are the 50-Lap Endurance Relay Race for Adventure and Adventure Open Classes Open to 400cc-1300cc Adventure Motorcycles with 21-19 inch Front Wheels and 2/3 Cylinder Engines for the Adventure Class; and 19-17 Front Wheels with 4 Cyl for the Adventure Open/Sport Touring Class.
Mid-day event is the 5-Lap Race for the First Ever Boxer Cup, featuring the BMW R Ninety Motorcycles, while the premiere Sportbike/Sport Naked 50 Lap Endurance Race will ensue after.
*****
Credit belongs to : www.manilatimes.net