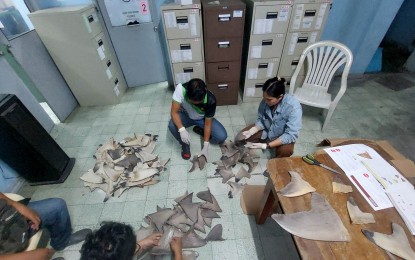 MANILA – Unregulated fishing and lack of awareness of the law have contributed to the reduction of sharks, rays and chimaeras in Philippine seas.
Senators Risa Hontiveros and JV Ejercito want to protect the three marine species through Senate Bill (SB) Nos. 1193 and 1554, both measures "regulating the catching, sale, purchase, possession, transportation, importation, and exportation of sharks, rays and chimaeras."
Of the estimated 200 species of sharks, only 25 are nationally protected through the Convention on the International Trade Endangered Species of Wild Flora and Fauna, according to SB 1554.
"The conservation of sharks, management of their threats, and creation of shark sanctuaries through this bill will serve as an example that can be replicated with other fisheries and wildlife conservation issues in the country," SB 1554's explanatory note read.
The bills support the country's commitment to protect and preserve its marine biodiversity and to find the intersection between management and utilization in the hopes of finding the balance between human needs and the integrity of the Philippine marine ecosystem.
"Despite the lack of understanding on the sharks' various roles in ecosystems, it is clear that they are key players in structuring food webs, whether they are at the top of the food chain or at lower trophic levels," read SB 1193. "Sharks are typically depicted as apex predators that have significant top-down effects on food webs. They help keep prey populations healthy by feeding on weak, sick, or old fishes, and prevent overgrazing of critical marine habitats."
The measures prohibit, among others, possession of sharks unless such person or entity can prove financial and technical capability and facility to maintain said species; killing, trading vulnerable, threatened, endangered, or critically endangered species; inflicting injury which cripples and/or impairs the reproductive system of sharks; harassing or disturbing sharks and their habitats; finning; collecting, hunting, possessing, importing, exporting, or re-exporting sharks, their by-products and derivatives; and falsely advertising or mislabeling any product, which could mislead consumers.
It will be enforceable in all Philippine waters, including other waters over which the Philippines has sovereignty and jurisdiction, and the country's 200-nautical mile Exclusive Economic Zone and continental shelf, including protected areas under the National Integrated Protected Areas System, critical habitats and all Philippine flagged fishing vessels operating in areas governed by a Regional Fisheries Management Organization. — Leonel Abasola  (PNA)
*****
Credit belongs to : www.pna.gov.ph