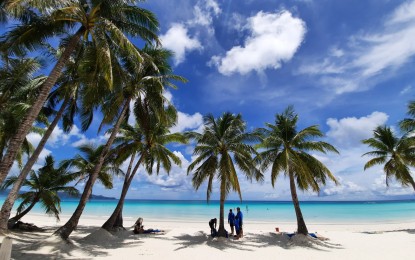 MANILA – The Department of Tourism (DOT) and its attached agency, the Tourism Promotions Board (TPB), will lead the delegation that will present the country's developments and product offerings at the Internationale Tourismus-Börse (ITB) Berlin Convention in Germany on March 7 to 9.
The event would provide an opportunity for the team to market and promote the Philippines as a tourism powerhouse to over 160,000 visitors at the travel and tourism trade fair.
"World-renowned natural wonders like the Subterranean River National Park in Palawan, the rice terraces in Banaue, and award-winning islands and beaches in Bohol, Cebu, Boracay and Palawan make the Philippines a destination to visit this year," the DOT said in a statement issued Monday.
The Philippine booth at the ITB Berlin 2023 will feature the country's rich culture and sustainable tourism through the colorful Filipino weaving tradition with the artistic works of T'nalak weaver Myrna Pula of South Cotabato and Yakan weaver and entrepreneur Angelita Pichay Ilul of Zamboanga.
Visitors will have a taste of Philippine coffee and chocolates through Kape de Filipina, a brand offering products grown by farmers and communities in the Philippines.
Meanwhile, guests of the Philippine-hosted cocktail reception on March 8 will be treated to traditional Filipino cuisine by Ayan, a Filipino street food restaurant based in Berlin.
The Philippine delegation is composed of 26 tourism stakeholders from the private sector, including Airtrav Philippines, Araw Hospitality Inc., Amorita Resort, Annset Holidays, Inc., Baron Travel Corporation, Batanes Wakay Travel and Tours, Blue Horizons Travel & Tours Inc., Bohol Beach Club, Chroma Hospitality Inc. (Crimson Hotels & Resorts), Club Agutaya Inc., CTPH lifestyle & Travel Services, Divaishnavi International Inc., El Nido Resorts, Evasion Tropicale Travel and Tours, GI Philippines Corp., Intas Destination Management Inc., Marsman Drysdale Travel Inc., MyTRIPS Travel and Tours, Plantation Bay Resort and Spa, Rajah Tour Philippines, Sharp Travel Service, Sarah Lea Travel and Tours, The Funny Lion, Total Exhibit & Expo Solutions, Inc., Travelexperts, Inc., Travelite Travel and Tours Co., and the Philippine Retirement Authority.
The TPB participates annually in the ITB Berlin with the long-term goal of securing increased arrivals, receipts, and investments for the country.
The country's participation in the event also aims to strengthen the global tourism branding campaign through partnership opportunities with various tourism stakeholders, including tour operators, online travel agencies, new online distribution platforms, travel websites and communities, journalists and influencers. — Ma. Teresa Montemayor  (PNA)
*****
Credit belongs to : www.pna.gov.ph