The Philippine Consulate General (PCG) in Toronto had a Basic Life Saving (BLS) training for its personnel, conducted by the Integrated Filipino Canadian Nurses Association (IFCNA) instructors Ms. Doris Barrion and Mr. Jeremy Pantig. Both instructors were awarded by Consul General Orontes V. Castro with certificates of appreciation at the end of the course for the voluntary training they gave to PCG personnel.
Mr. Austine Gaqui, co-founder of IFCNA, and Ms. Jennifer Lopez, current IFCNA president, were also present during the holding of the in-person training. IFCNA offers other related free online courses and reviewers. Its members are also active in volunteering medical assistance during Filipino community events. The IFCNA membership includes Filipino nurses who are retired, practicing or non-practicing, licensed or non-licensed, and nursing graduates of the Philippines and of Canada.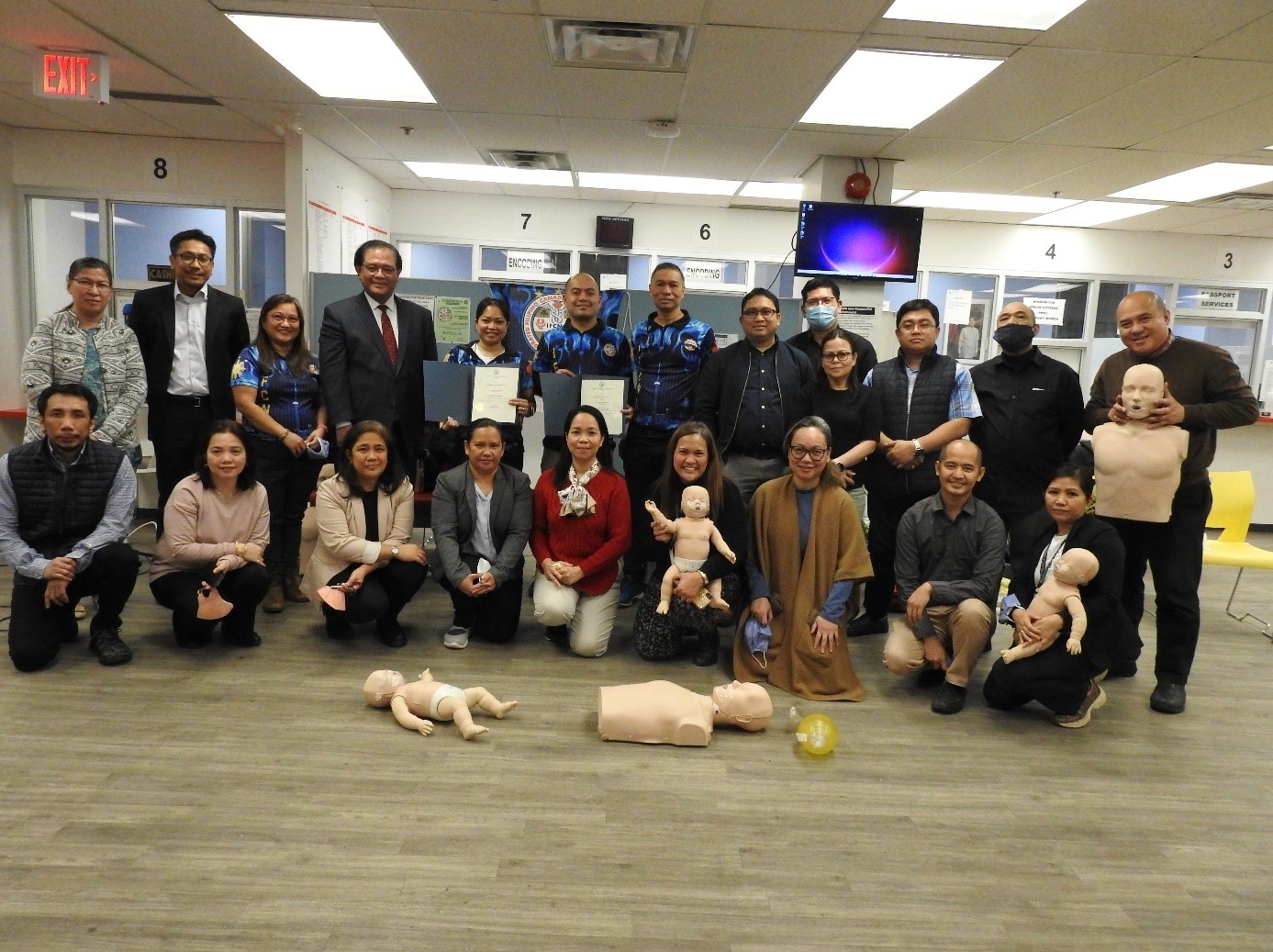 The BLS course covered 1-rescuer, 2-rescuer and multi rescuer team cardiopulmonary resuscitation (CPR); adult, child and infant CPR and relief of choking; and the use of an AED, barrier device and bag mask device.

In his brief opening remarks, Consul General Castro highlighted the importance of BLS knowledge among the Consulate General's personnel who provide consular services to Overseas Filipinos and the public. He thanked the IFCNA for sharing their knowledge of BLS to the Consulate Genera's personnel.
The BLS Provider course is a prerequisite for advanced resuscitation courses and other healthcare-related training programs. A BLS certification is often required for employment in the healthcare field but, it is also most useful for people outside of the healthcare field to aid in emergency response for friends, family and co-workers who are experiencing medical emergencies needing CPR.END-
PHOTO RELEASE