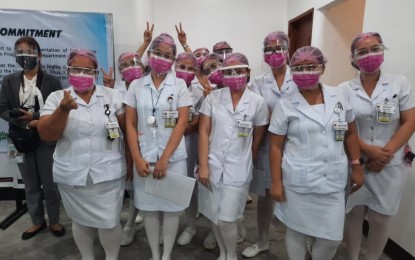 MANILA – Scholarship programs with a mandatory return service may be one way to address the shortage of Filipino nurses, who prefer to work abroad because of much higher salaries.
Anakalusugan Party-list Rep. Ray Reyes said in a news release Sunday that having a scholarship and return service program for nursing students will provide a "win-win solution" for the country.
Reyes has filed House Bill (HB) No. 6631 or the "Nursing Scholarship and Return Service Program Act" which seeks to provide scholarships to deserving students in state universities and colleges or private higher education institutions in regions taking up bachelor's degree in nursing.
The student will serve one and a half years for every academic year of scholarship availed, in his or her province or municipality hospital or provider, as determined by the local government unit (LGU) and confirmed by the Department of Health (DOH).
"Our proposed scholarship scheme will definitely help those who wish to take up nursing in college and pursue it as a profession," he said.
Data from the Professional Regulatory Commission show that as of March 24, only 53.55 percent of the 951,105 registered nurses in the country are active.
"The government must ensure that there is an adequate amount of health care workers at any given moment, in any municipality or community in the country. Additionally, the health and welfare of these health care workers must also be a priority," Reyes added.
On Wednesday, President Ferdinand R. Marcos Jr. ordered the Commission on Higher Education (CHED) to fix the shortage of nurses caused by migration to countries that offer higher pay.
In October last year, the DOH estimated that there is a shortage of 106,000 nurses in the country.
Under HB 6631, the DOH will be tasked to determine the number of nurses for every municipality or province then provide the proper integration of the scholar into the public health and medical service system, including providing the necessary number of plantilla positions to accommodate the new nurses.
In the same manner, the DOH shall craft a career pathway to enhance the scholar's competencies and skills.
"We want to make sure that each municipality or province have scholars that will provide service to their own towns, making sure that we have enough nurses evenly placed in all parts of the country," Reyes said.
The scholarship grant is not limited to freshman students, but also to existing nursing students who wish to avail of the program.
The program will provide free tuition and school fees, allowance for books and needed supplies and equipment, financial assistance during internships, as well as medical insurance to interested applicants.
More schools
Meanwhile, Senator Francis Tolentino advised CHED and other concerned agencies to build more nursing schools and raise their salaries to prevent them from going abroad.
"Dapat balansehin natin ang kakulangan ng mga nurses at ang karapatan din nila na mangibang bansa para maging maayos ang kanilang buhay (We must balance the shortage of nurses and their right to work abroad for a better life)," Tolentino said in a radio on Sunday.
Tolentino said the government cannot prevent them from working abroad and seeking bigger salaries to secure the future of their families.
According to his office's research, private hospitals in the Philippines pay a monthly salary between PHP12,00 and PHP20,000 while the entry level in a public hospital is PHP33,000.
In Europe, nurses can earn between PHP80,000 to PHP200,000, while it can be higher in the United States, both with chances to bring their families with them.
Another solution, according to Tolentino, is to enact a law similar to the Doctors to the Barrios Program implemented in 1993, where graduates from state universities render at least three years of service in rural areas where medical personnel are scarce, a concept similar to Reyes' bill.
— Zaldy De Layola with a report from Leonel Abasola (PNA)
*****
Credit belongs to : www.pna.gov.ph