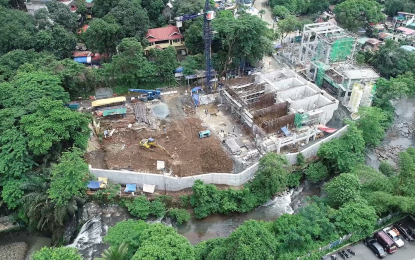 ANTIPOLO CITY – A water treatment plant currently being constructed on top of the famous Hinulugang Taktak waterfalls here is expected to restore the ecological balance of river water flowing through at least four barangays in this city.
In an interview on Tuesday, Manila Water (MW) communications manager Raymond Maymay said the Hinulugang Taktak Sewerage Treatment Plant (STP) will be capable of restoring water to "Class C" quality, allowing marine life to thrive and people to hold recreational activities.
He explained the river flowing through Barangays Dela Paz, San Isidro, San Roque and San Jose has, for decades, served as the disposal area of sewerage and wastewater from surrounding households and businesses.
Because of the unchecked flushing of untreated wastewater, the once pristine river flowing down the famous waterfalls, around which an entire tourist industry arose, has practically degenerated into sewerage water.
The facility will help rehabilitate and sustain the historic falls by treating the wastewater generated within the catchment area before discharging it to the falls, it was further explained.
Maymay said the MW has allocated PHP2.5 billion for the construction of the Hinulugang Taktak STP.
When it becomes fully operational in December 2024, the plant will be able to treat up to 16 million liters of wastewater daily, serving some 148,000 Antipolo City residents, he added.
Building the STP is part of the water firm's mandate under its franchise, and will not entail additional charges on consumers, the spokesman noted.
"Our franchise provides for service improvement and environmental sustainability, and this treatment plant is part of that. It is being financed through the water bills customers pay, so, no additional charges are needed," Maymay added.
In a statement, Mayor Casimiro Ynares III expressed optimism that the partnership between MW and the city government will restore Hinulugang Taktak and its tributaries to their old glory.
"Many have said that restoring the beauty and cleanliness of Hinukugang Taktak is impossible. This (treatment plant) is an antidote to the impossible," he said in Filipino. — Miguel Gil (PNA)
Credit belongs to: www.pna.gov.ph